I mean FFS ...........she is hot like smoking ass indian hot .....but the age gap ........who cares ........he obviously likes here .........and what is not to like ...indian women are always exotic .....and i love exotic .....smouldering .........but he is nick jonas .......... so he would never have trouble finding a hottie ......unlike me .........i am degenerate...... shallow....... clitty/tiity loving ......but you will always get honesty........ and lust ....love ......... nope......... do not believe in it on any level .......until someone completely loves themselves.......... how can they love someone else ........fact .......love ......and wisdom cannot hare same platform .......but hey !!!!!!! what do i know........ i am just a vanilla gorilla ..........looking for a table dance .......free one of course !!!!!!not gonna happen ......
Priyanka Chopra 'put a stop' to romance with Nick Jonas over age gap
Priyanka Chopra has revealed she was wary of getting into a relationship with Nick Jonas because of the 10-year age gap between them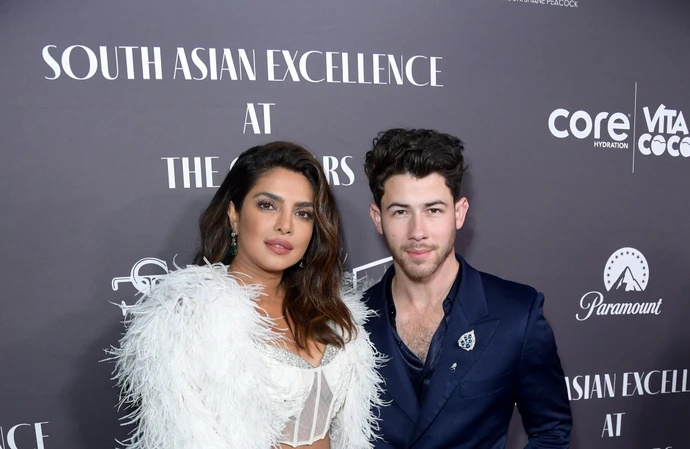 Priyanka Chopra "put a stop" to her romance with Nick Jonas because of the 10-year age gap between them.
The 40-year-old actress started dating the pop star, 30, in 2018 and they married later that year before becoming parents to a daughter in 2022 and she's now revealed Nick got in touch with her via social media two years before they started dating but she was wary about getting involved with someone so much younger.
Speaking on the 'Armchair Expert' podcast, Priyanka explained: "I didn't want to engage as much at the time ... I was also like 35, Nick was 25. I really put a stop to it in a way because I judged the book by the cover. I said, 'I wanna settle down. I have been there and done the fun dating things. was like ready to get serious."
After first getting a message from Nick via Twitter back in 2016, they went on to meet in person a year later in 2017 and ended up keeping in touch via text but Priyanka was still reluctant to jump into another relationship because she was worried about making the same dating "mistakes" again.
She added: "I kept making the same mistakes. A lot of the pattern in my relationships was me feeling gaslit because I gave that kind of power to the people that I was with, where I was like, 'You come first'."
However, Priyanka eventually put her reservations aside and struck up a romance with Nick in 2018 and they have been together ever since. The couple's first child, a little girl named Malti Marie, arrived in January 2022.
Nick previously opened up about their meeting at the 2017 Met Gala in an interview with Vogue magazine, revealing he couldn't help coming out with a cheesy line when he first laid eyes on Priyanka.
He confessed: "I put my drink down, get on one knee - this is in front of a bunch of people - and I say: 'You're real. Where have you been all my life?' Like, loud."