I just never understood why people would buy they cannot see .........i am old fashioned.......... cash is king ......but if the ruthless have their way it will soon be gone.........it cannot be governed........ and i think crime is linked to it ....i hope it crashes......... badly ........but we will have to wait and see .......... you have a currency floating in thin air .......i mean............. i do not get it ......on any level .........but that is just me ........
Bitcoin has bottomed and the world's biggest cryptocurrency is on a new bull run, MicroStrategy's Michael Saylor says
Story by mchittum@insider.com (Morgan Chittum) • 9h ago
MicroStrategy's Michael Saylor says bitcoin's price has bottomed.
Crypto regulation will soon weed out bitcoin's competitors, according to Saylor.
This, along with Bitcoin's halving and the Ordinals protocol, are bullish as well.
MicroStrategy's Michael Saylor says bitcoin's current rally is in fact the start of a new bull run.
The software company's cofounder chalks up the new bull market to bitcoin's halving, more adoption of the crypto asset, and a regulatory crackdown on the industry that should benefit bitcoin.
Investor and developer interest will begin shifting from other blockchains, Saylor says, and into Bitcoin's network as regulation begins to weed out competitors like Ethereum. Earlier this year, US Securities and Exchange Commission chairman Gary Gensler said that "everything other than bitcoin" falls under securities laws.
"I think the crypto tokens and crypto securities are going to be regulated, perhaps out of existence," he told CNBC on Friday, adding that the token is the one commodity that the SEC is not going to regulate. "Bitcoin is the most secure network. It's the most secure asset. Everything else has got a black cloud hanging over it."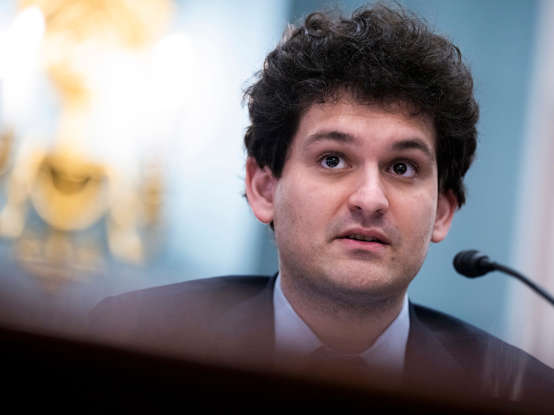 The rise and fall of FTX's Sam Bankman-Fried, who went from being a crypto billionaire to being arrested and charged with fraud
Sam Bankman-Fried catapulted into a crypto billionaire, but it took just one day for most of his fortune to be wiped out.
He was extradited to the US and released on $250 million bail on December 22.
On February 23, he was hit with 4 additional criminal charges, bringing the total number of criminal charges against him to 12.
Just months ago, Sam Bankman-Fried was a 30-year-old with a mop of brown hair and enough clout to go by his initials, SBF. He had a cryptocurrency exchange called FTX, a trading firm called Alameda Research, and $15.6 billion to his name, according to estimates from Bloomberg.
He had catapulted into one of the biggest names in crypto in a matter of four years and was setting his sights on mainstream finance.
Now, all he has left are his initials, and several legal proceedings ahead of him.
Bankman-Fried was arrested on December 12 by Bahamian authorities at the US government's request.
He's since been extradited to the US and released on bail of $250 million. He's staying with parents in Palo Alto, California as he awaits the trial of FTX. Bankman-Fried originally faced eight criminal counts that included charges of wire fraud, securities fraud, commodities fraud, and money laundering.
But on February 23, federal prosecutors unsealed an updated indictment that poses 12 total criminal charges against him including more counts of conspiracy.
Here's how SBF went from crypto's poster child to its greatest cautionary tale:
He added: "You're going to see a consistent flow of capital flowing from the rest of the crypto ecosystem [into] bitcoin."
R