Here are some brilliant car hacks for you to use or not .....anywuas i thought i would let you have them .....or not use them ....i don't fucking care .........😈
Brilliant Car Hacks That You Should Try
As soon as you buy a car, how many of you have read the manual? You should know everything about your vehicle. At least, you should know the essential technical aspects to fix if a problem occurs in your car.
Sometimes, you might even know simple things like car hijackers that might be brilliant for your car. However, you need to know what ideas the car hijackers use, as there are a few specificities you get to see if you have tried to use hacks on your car.
If you haven't tried it, we've listed some of the secrets to having a look at it!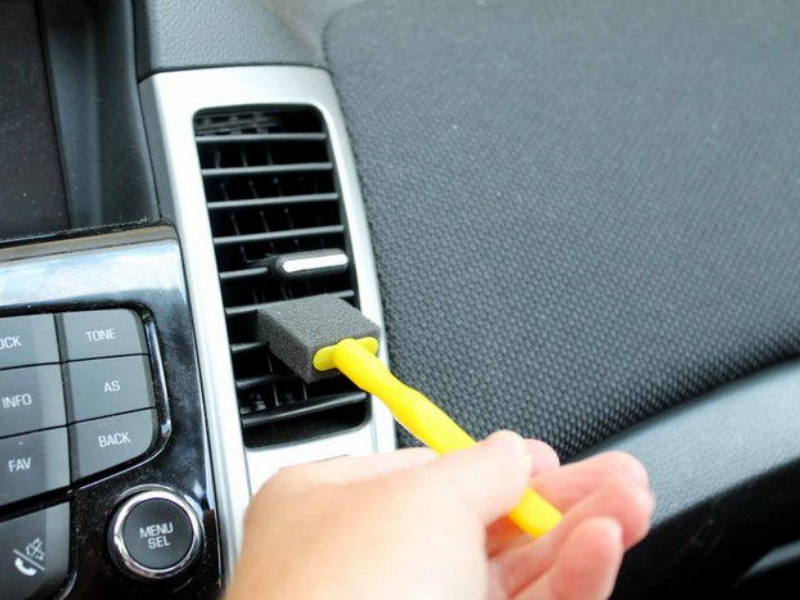 Repair A Dent Using A Plunger And Warm Water
Are there any horrid dents on the side of your car? There's no need to panic. To err is human. But is it an easy fix? It is essential to remember that the plunger method will not work for all types of damage. The plunger method only works very effectively on less damaged plastic parts of the car. We need a pot of hot water and a plunger. Pour the hot water on the dented surface of the vehicle, which softens the material. Once the material gets softened, place the plunger over the dented area and pull straight out. If it is less damaged, then you have fixed the dent. Otherwise, it might be prominent over some surfaces.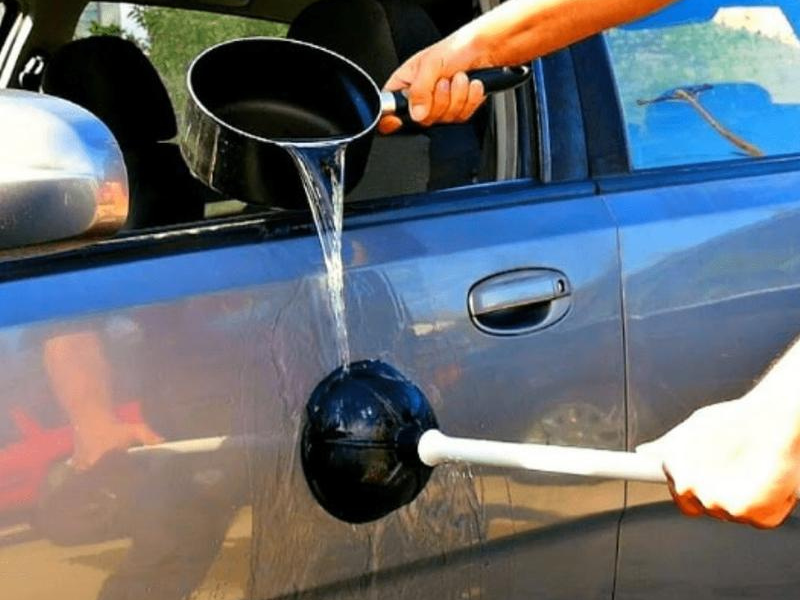 Use Toothpaste To Wash The Headlights
If your vehicle headlights are looking foggy, you don't have to rush to a mechanic. A white toothpaste that you use daily can rectify this problem. Most toothpaste contains baking soda, which can cleanse both your teeth and any surface. Apply toothpaste onto the headlight with a small brush, then keep brushing until you see the grime coming out. Rinse the entire surface with water and then wipe it with a cloth. If you are not comfortable using toothpaste, you can use baking soda or a water-based paste.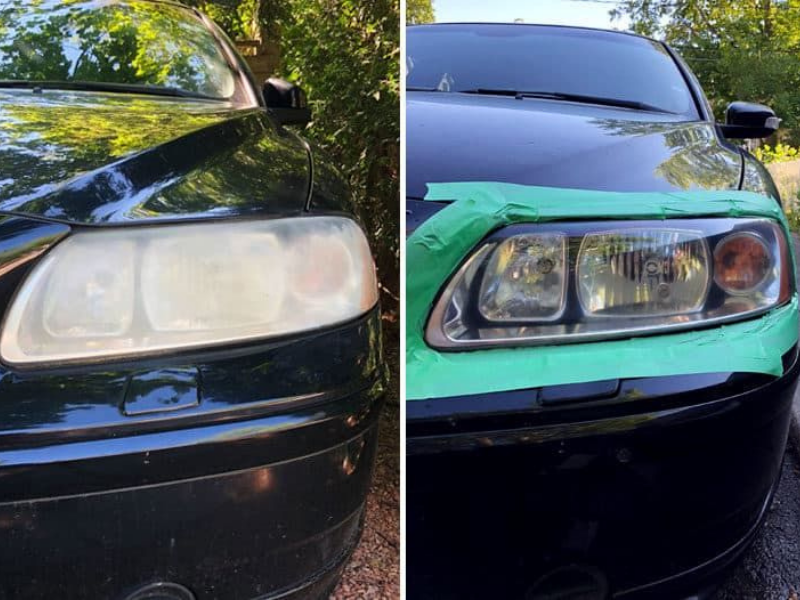 Use A Staple Solvent To Open Your Keychain
Though this is a simple process, not many are aware of this method. But it is common for everyone to come across a situation where we struggle to open a split ring keychain. This hack is for you to open a keychain quickly. All you need is a Staple Remover. Since the remover has fine teeth, it is ideal for slipping quickly between the rings of a keychain. When you squeeze them down, it pulls the curls away from the wrench and makes it easy to slide on a new key. It prevents you from having to force the keychain open with your hands.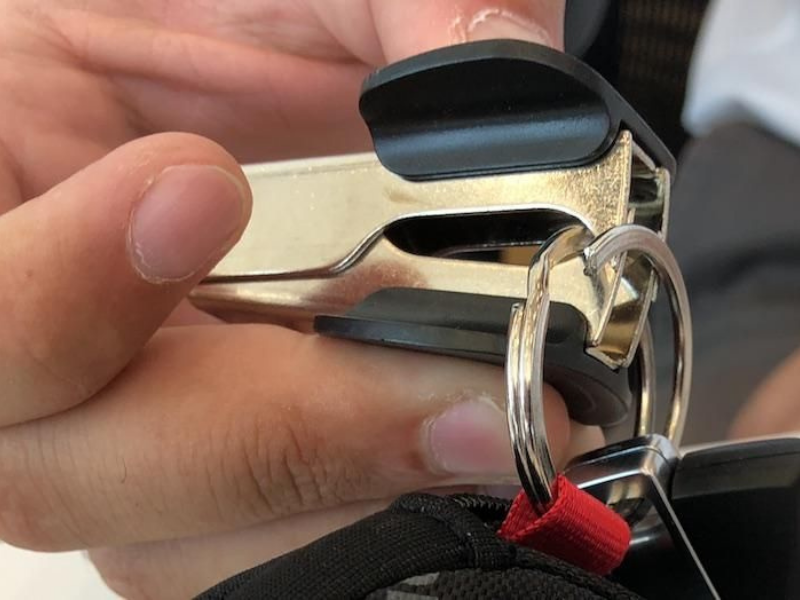 Shower Cabin In The Trunk
You should always have certain items in the car, as your car is your base camp when you are out to the grocery store or planning a road trip. You can keep some emergency supplies like oil, a funnel, a rag, a flashlight etc., in the car trunk. It is the perfect location to keep those supplies. Consider getting a shower caddy to store all the critical items secure. You can carry all these items and still have room in your trunk for luggage.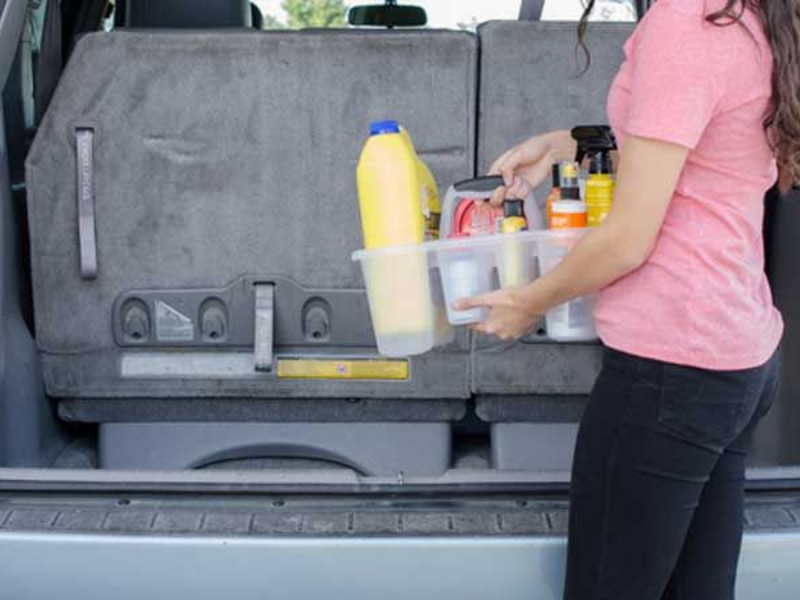 Notify Door Dings With The Pool Noodle
After you have parked in the garage, you might hear a bang sound to find some scratches. You can prevent these scratches from your vehicle by placing a pool noodle on the wall of your garage. It is a simple process where you need to cut the pool noodle in half with the knife, then drill dry bulkhead screws through the pool noodle at either end. Measure where the pool knob should go by opening your car door. You can mark the spot with a pencil or a marker. Hold the noodle at the location and tighten it in place. An electric screwdriver can be simpler, but a handheld screwdriver will also work.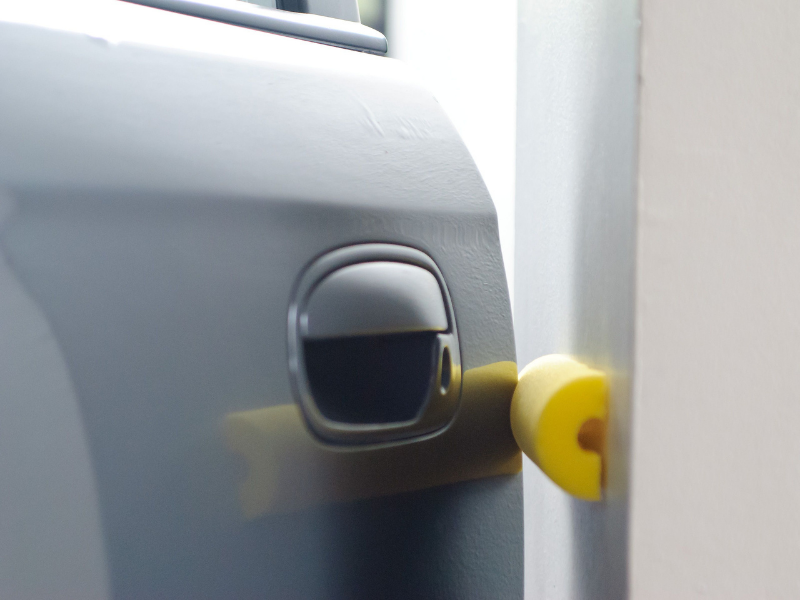 Use A Basketful Of Cereal As A Trash Can
You leave trash all over your car, but you should always know that the pungent smell can stay inside your car forever. This problem will not arise if you have a trash can in the car. All you need is a little plastic container holding the cereal. Just pack it into a plastic bag, and you have a compact and easily sealed trash can that keeps your car clean, organized and smelling excellent. It is a great habit to have, but it is also not always easy to maintain.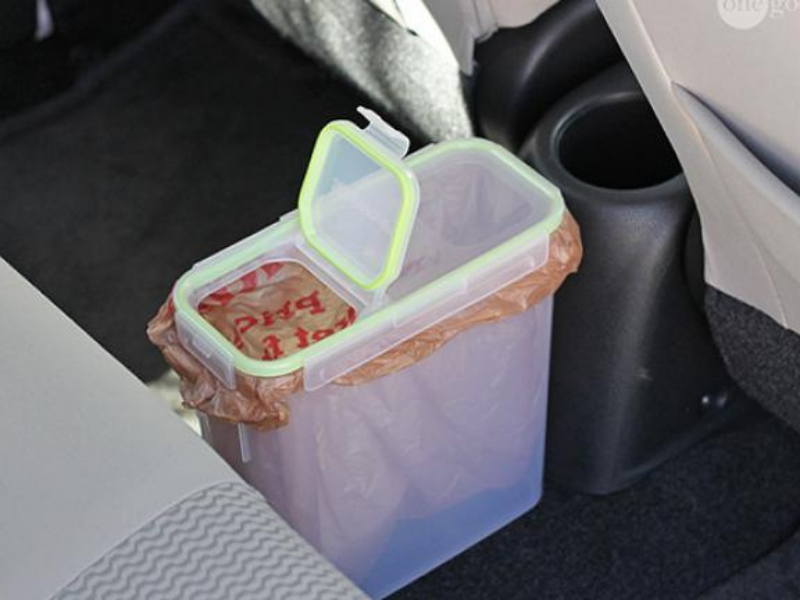 Use Tinted Plastic Foil To Minimize Glare
Regardless of the size and flexibility of your car or truck visors, there always seems to be this time between sunset or sunrise, where the light can temporarily blind you, and you are helpless. Sometimes, it feels like the heat outside the car window is baking the interior and blocks your eyes. Pick up a few sheets of tinted plastic, and place them on the windshield to reduce the intensity of sunlight and save your eyes from strain.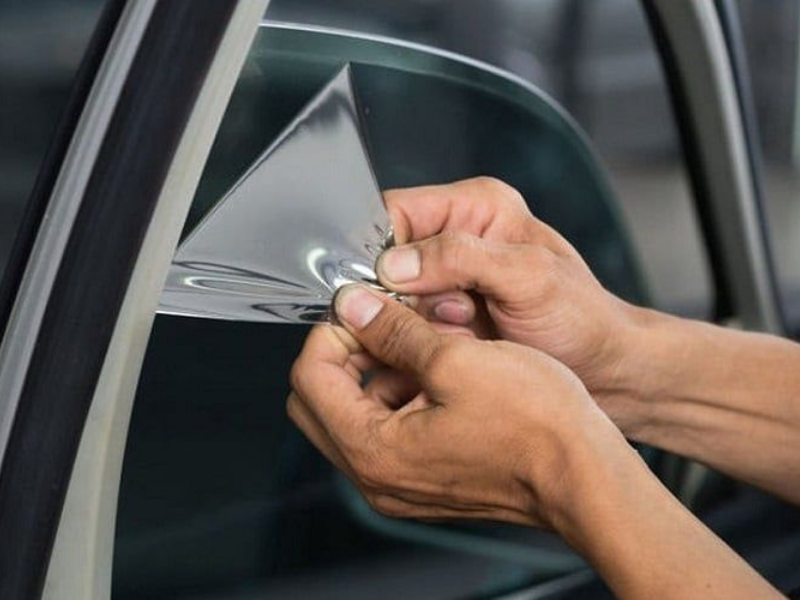 Park Your Car Facing East To Reduce The Freeze
We feel your pain. All you have to do is be mindful of where you park at night during winter. Street parkers may be hesitant to think about the ordeal of finding a parking spot in the right direction. You might think it's weird, but it's elementary and makes sense. If your car faces the sun in the morning, the rays will defrost your front windscreen. So, as long as you're off to work after the sun comes up, you'll never have to wait until the A/C warms up again!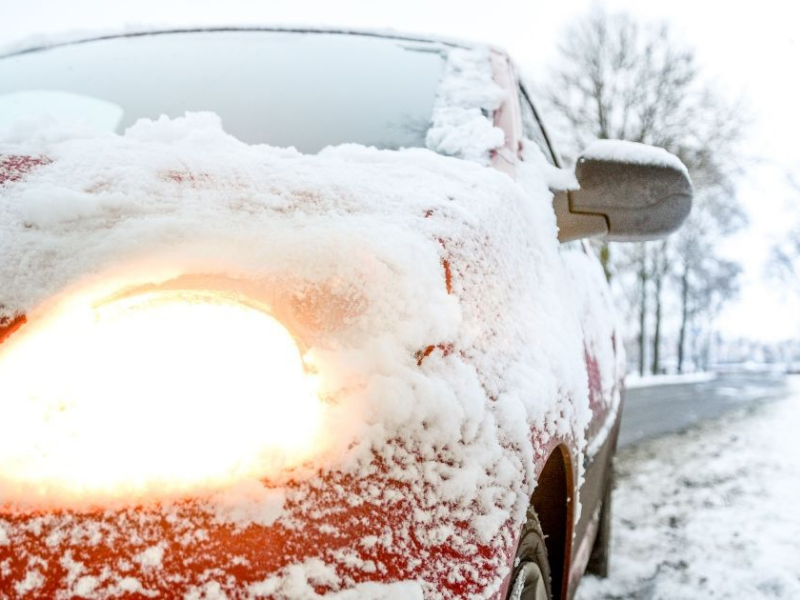 Hold Your Keys On Your Head For Longer Range
My friends and acquaintances have been complaining about the car's keyless entry, remote in the past few weeks. It seems that they have to be next to the car to get it to work. We have got a simple trick for you to try! Hit your head with the fob. With all the fluids in your head, it's going to be a good conductor. It's not great, but it works. Rubbing the key on your head may extend the wireless reach of the key to a few car lengths. So when you're in trouble because of a keyless car, you have a solution ready.
Messy Kid On A Long Car Ride? Magna-Doodle May Be Of Assistance
You have two obvious problems when travelling with a child for long distances: They get dirty and bored quickly. Fortunately for you, packing a Magna Doodle in your arsenal of toys can help these issues. They are easily one of the most entertaining toys, as kids can draw and repeatedly redesign without running out of materials. You may not know that this can double as a children's tray table to eat meals without getting crumbs and spills everywhere. Use the Magna Doodle to keep your children busy and clean when on a road trip. This product has multiple uses and will entertain your children without you having to worry about anything.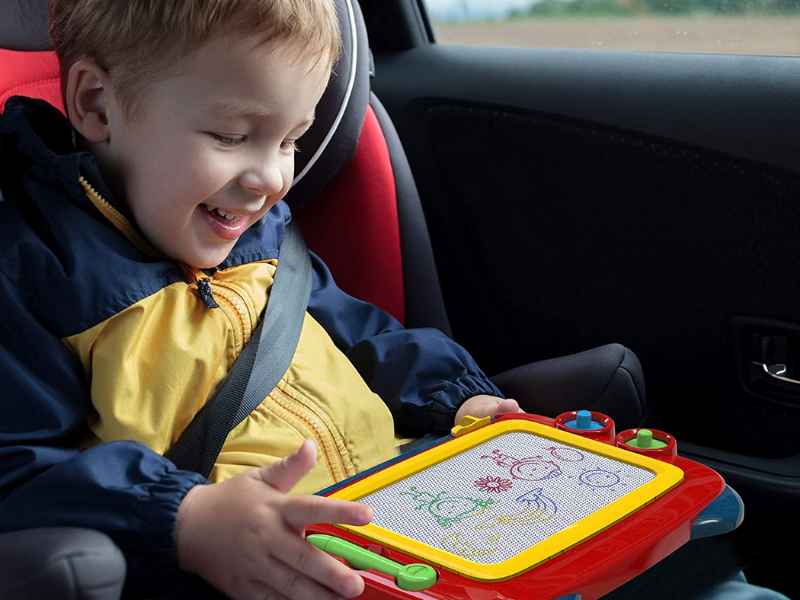 Clean Your Wheels With Coke
Other than its great taste, there are scores of things that many people use Coke. It can be used to clean toilet basins, get rid of greasy stains of fabrics, and clean car rust. Coco-Cola can be an essential product that serves in cleaning your car's rusted wheels. Since it is carbonated, it can dissolve metal oxides to break, rust and remove tarnish from several metals and their alloys. Take a whole can or bottle, which is slightly flat, so it does not ignite immediately. We prefer Light Coke as it is not sticky like ordinary Coke. So once you are removing rust, you don't need to spend a lot of time washing the stickiness.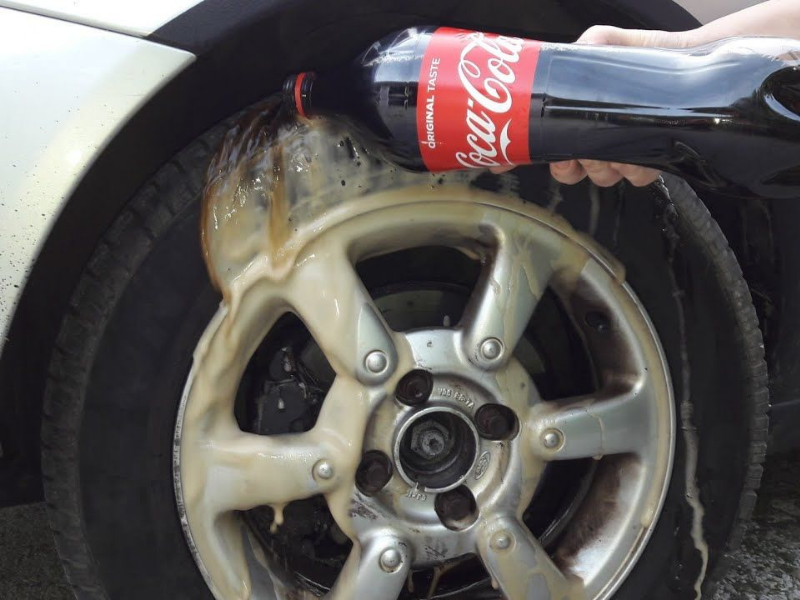 In Case Of Emergency, The Pantyhose Can Act As A Fan Belt
You are on a road trip, and you are left stranded because your belt slip snapped, leaving your car in need of desperate repair. It is a simple trick that works well! Silk or nylon pantyhose can be used in emergencies in cars with V-belts. Place the pantyhose around the pulleys and tie them into a knot and drive the vehicle to the nearest garage. The pantyhose cannot be used as an emergency strap in cars with serpentine straps because they do not have grooves to follow the belt's path. Pantyhose is very useful for other auto emergencies too.
Nail Polish May Correct Minor Abrasions
If you're hoping for a quick solution to cover up a few ugly scratches, the first thing you need to do is wash your vehicle. There is a chance of getting a little scratch or chip in the car's paint, but it is better than taking it to a garage to repaint. You don't have to go to the mechanic for a small scratch. Instead, you can use nail polish to clear it. After heating it, grab a nail polish bottle that has similar colour and apply gently on the stripes. If necessary, apply a second layer.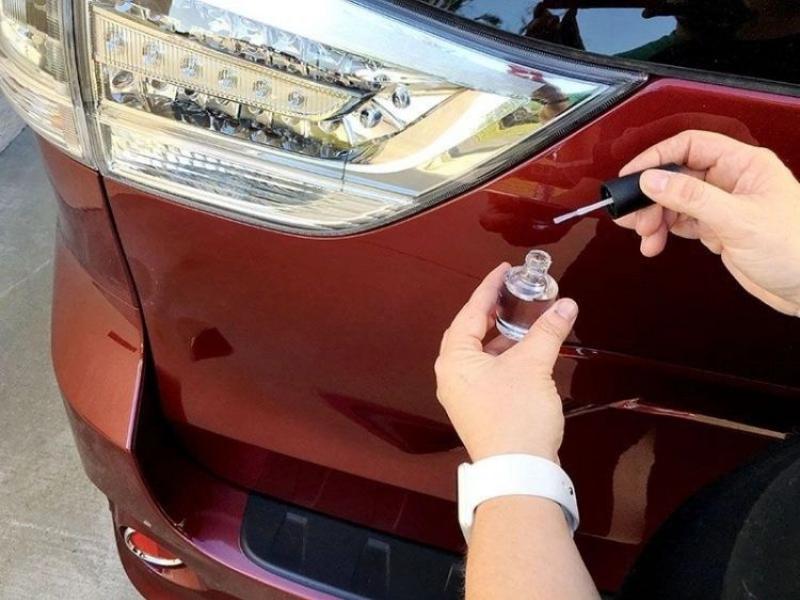 Use Hand Sanitizer To Defrost Door Locks
Another household product that can prevent ice from forming in locks is a hand sanitizer if you find a frozen car door latch. Dab a little hand sanitizer on your key can push it gently into the rigid latch. These alcohol-based sanitizers often burn through the ice in the car door locks quite quickly, so you are not stranded. If you take just a moment to splash a bit on the door lock every night, this solution can protect your car by preventing internal condensation and freezing. Did you even think about using hand sanitizers to avoid defrosting? It is a foolproof method with minimal risk and high rewards.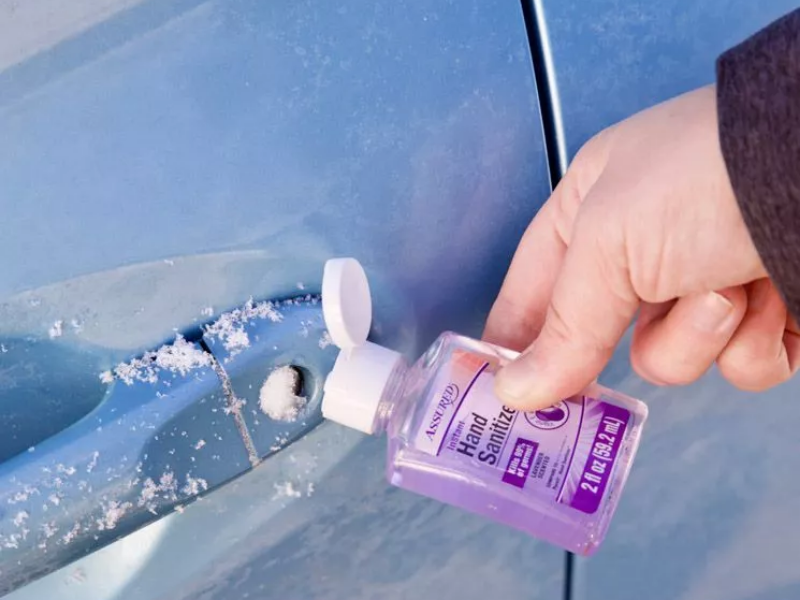 Keep Your Seatbelt On When It's Hot
When the temperature reaches its peak in summer, we are grateful for air conditioning! However, car seats and seatbelts left in the sun can get hot enough to cause a burn. It can be dangerous to try to buckle your belt in the summertime. It cannot burn you if the sun cannot touch it! Any piece of exposed metal from your car will injure your hands. But you can at least avoid the seat belt issue by putting it on after you get out of your car and leave it there till the next time you get in.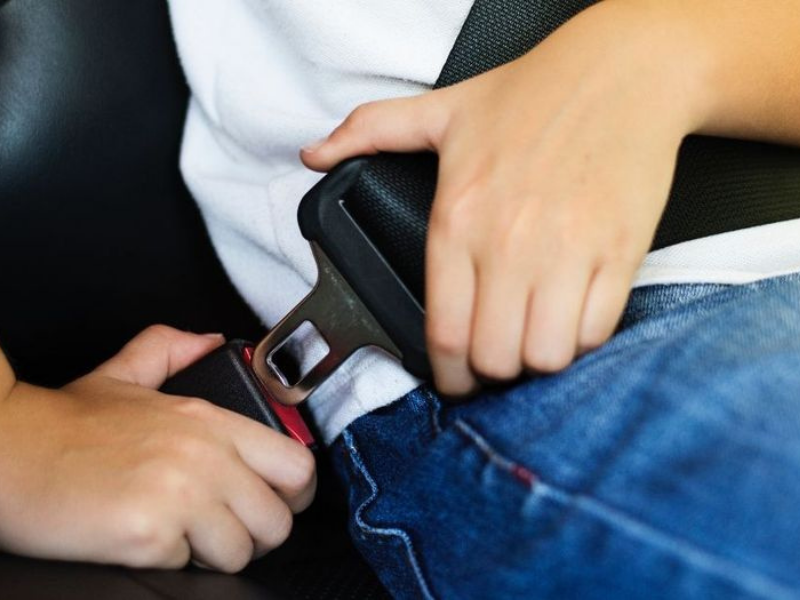 On The Shoe Rack = Back Organizer
Back seat organizers are a great purchase option for you, as these products help you enjoy and relax when driving for long hours. Especially if the car's backbench organizers come with a tabletop, this car accessory becomes a must-have. It will be more beneficial if you have children. A simple shoe rack over the door can be the perfect place to store all the essentials of the backseat—sipping cups, toys, magazines, snacks, and more. All the pockets are easy to access and more straightforward to look at than the pockets of mini-van seats.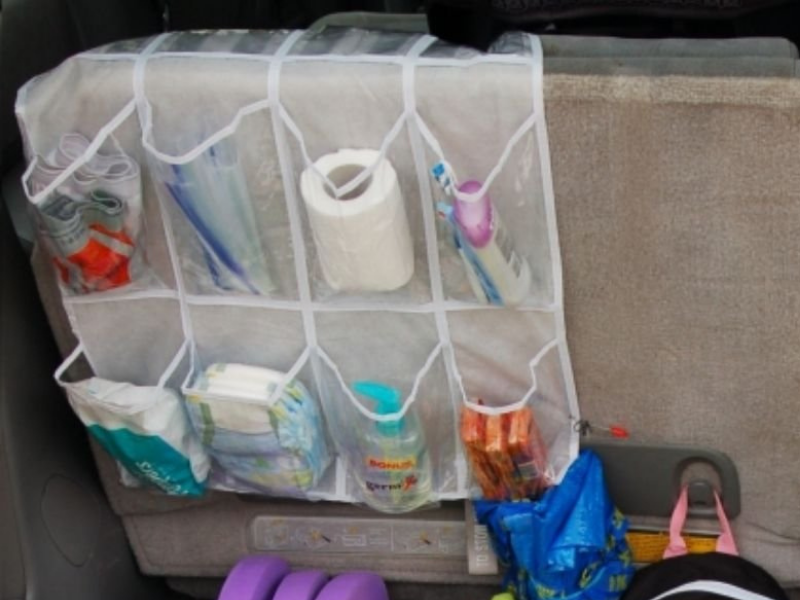 Use Clear Nail Polish On Window Chips
If you have chips on your windows and are worried about the cost of getting it fixed by a mechanic, there's a straightforward home solution for this issue. Firstly, you will want to clean the damaged area of your windshield with dishwashing soap and hot water. Once it is dry, you need to apply a thin layer of clear varnish to the damaged area and let it dry. The nail polish acts as an adhesive that can prevent cracks from spreading. The transparent varnish can fill the corners of your small windshield splinters and damages. When dried, it helps seal and protects it from the cold elements that cause additional crashes.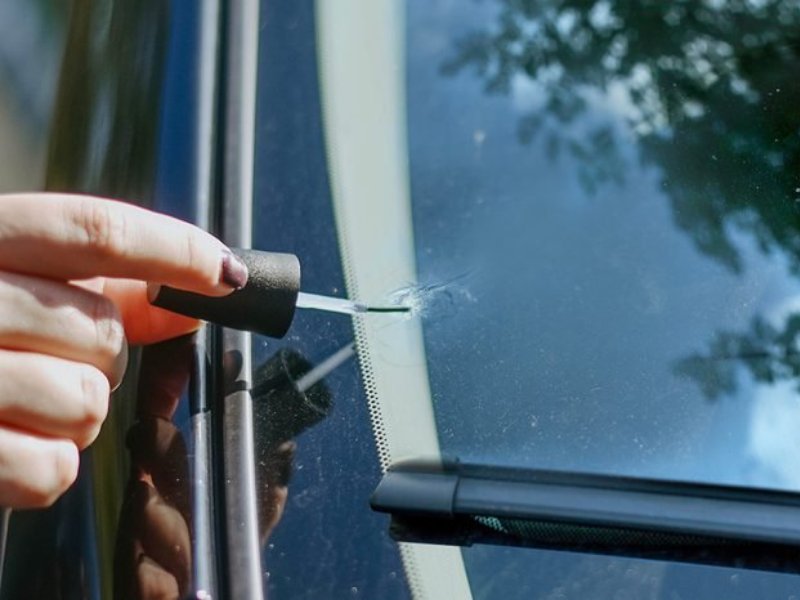 No Phone Holder? Use A Rubberband
It is hazardous and annoying to see the GPS on your phone while driving if you don't have a phone holder or someone to hold it for you. Instead, you can use a rubber band and a pen or an object that can pass through the ventilation vents of your car. Thread the rubber band through the upper portion of the duct, and pull it through the lower part. Engage both ends around your phone, so it stays still. It will not hide your monitor and will always hold the phone in place, ready to use. The ideal solution is to purchase a good smartphone stand, but it's an excellent hands-free solution and a lot easier than using office supplies if you are using a rental.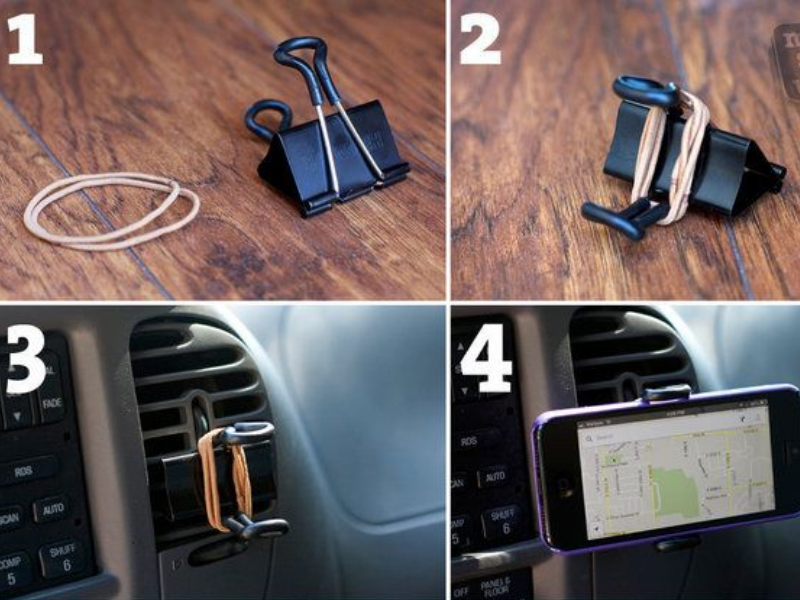 Cool Your Heated Car Quickly
When the weather is burning, it won't matter if you use a sunshade. However, the indoor temperatures maybe not only uncomfortable but also be hazardous. Your car is always going to feel like a sauna if it's been in the sun for hours. But you are exhausted and need to drive back home. You have to get in the car, and it's boiling inside. The first thing to do is open windows and doors. Next, open the driver's side door. You create a low-pressure area that sucks up hot air and refreshes your car with the windows down.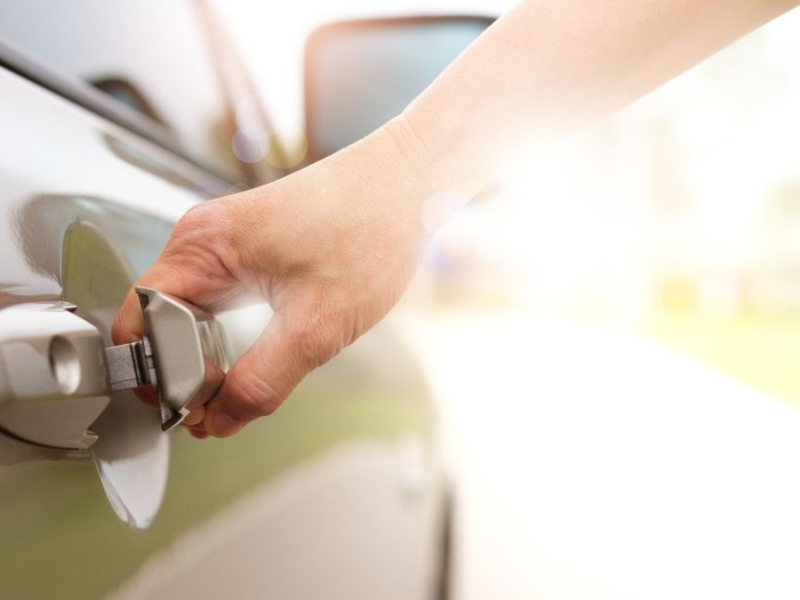 Dryer Sheets Are Your Next Air Freshener
Dry sheets can do more than rejuvenating your clothes! You can use their odour-removing power to your advantage when cleaning your car. Whether it's refreshing the scent inside your vehicle, removing dead insects on the outside, or cutting down on pet hair, dryer sheets are great news for your car. Don't waste money on deodorants that only work for a few days. A box of dryer sheets last much longer, don't get in the way, and truly absorbs odours. You can get them scented or unscented, and your car will feel nice and fresh for months.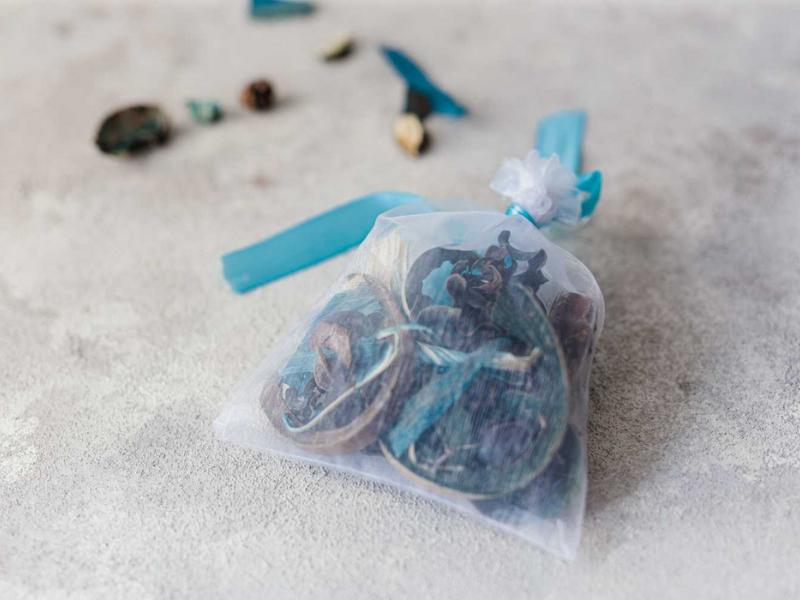 Scratchproof Fabric Nanotech Car
The production of scratch-proof fabrics uses the most advanced safe formula nanotechnology. These versatile scratch-resistant apparel can remove scratches and stains from the car, restore the vehicle's colour, and protect paint surfaces. The scratch-free cloth has no pungent odour, is non-toxic, non-corrosive, and will not stain the car paint's surface. You can safely use it on any varnish, single-stage or multi-stage paint! It is an excellent product that can save your car's beauty. If you are uncertain about the effectiveness, it comes with a 1-year limited warranty. We can repeat this 10 to 15 times.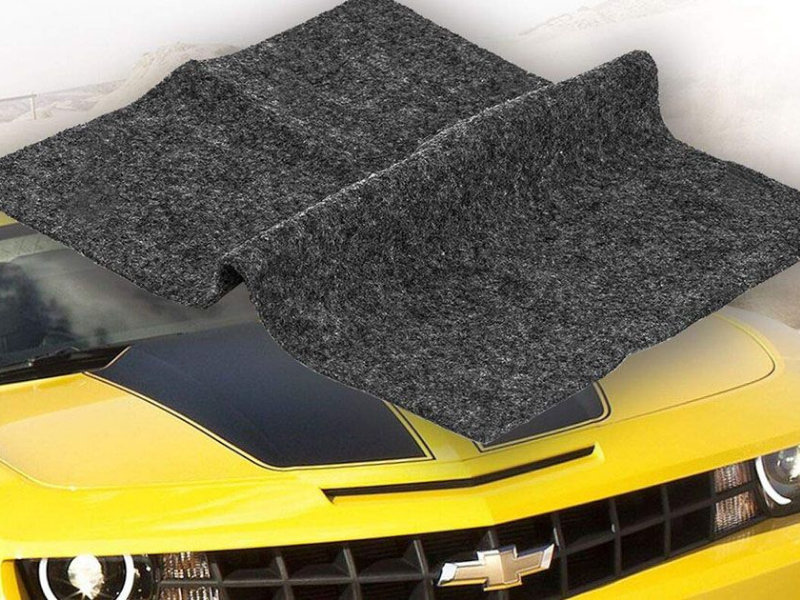 Wax Cube Air Freshener
There's a secret on how to make your car smell as good as your home with a clever trick that transforms a wax melts into a portable air freshener. You can place this shaker into your car door, allowing the scent to release through the holes in the lid. It's another air freshener idea, along with dry sheets, that makes your nose feel good. Just take a few scented wax cubes and pop them into a mason pot with a few holes pricked in the lid. Once the vehicle warms up, the wax will melt, filling your car with a charming aroma.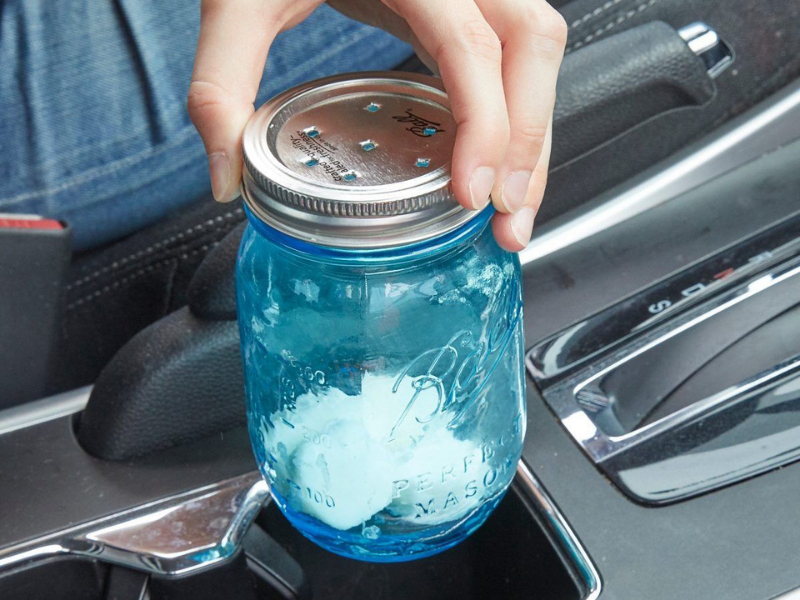 Penny In The Tyre
It doesn't matter which tire you use. Regardless of the season, if the tire is worn and bald, your security and control are severely affected. The track makes it easier for tires to grip the road and helps your vehicle respond more quickly to adverse weather conditions, like rain, snow and hail. There are many ways to check the depth of your tires. An easy way is by using the one-cent coin. A penny can buy you peace of mind when it comes to your tyres and security. Place a penny headfirst into the grooves of the tyre. If you still see the summit of Lincoln's head, your treads are worn out. In that case, your tyres must get replaced.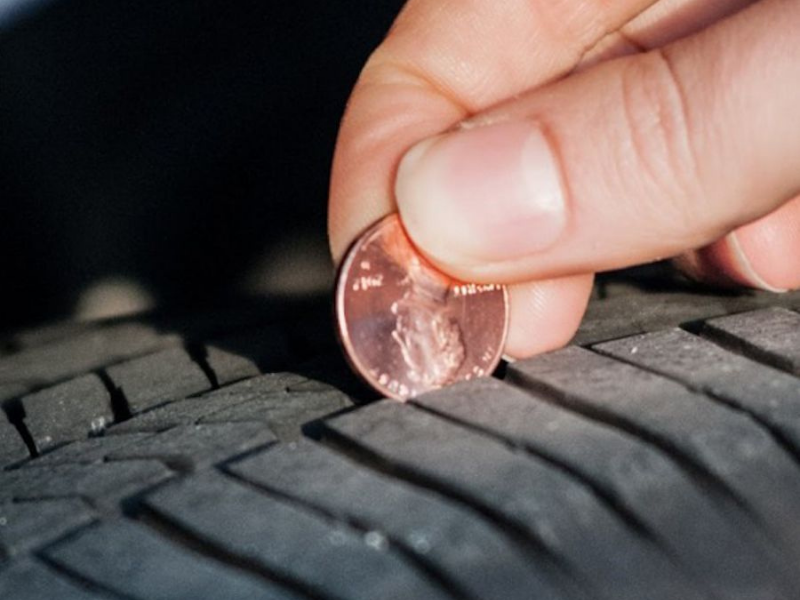 Cup(Cake) Holder
Do your cup holders get disgusting from mysterious filth, or is it just mine? Cupcake liners are possibly one of my favourite car hacks! They fit perfectly into your car cup holders and are easy to clean too. Just pull the cupcake liner out, shake it or wash it and put it back in your car! Collect a few silicone cupcake liner packets and slip them into the cupholders in your car. They'll organise the whole thing and are easily removed and cleaned, keeping cup holders intact.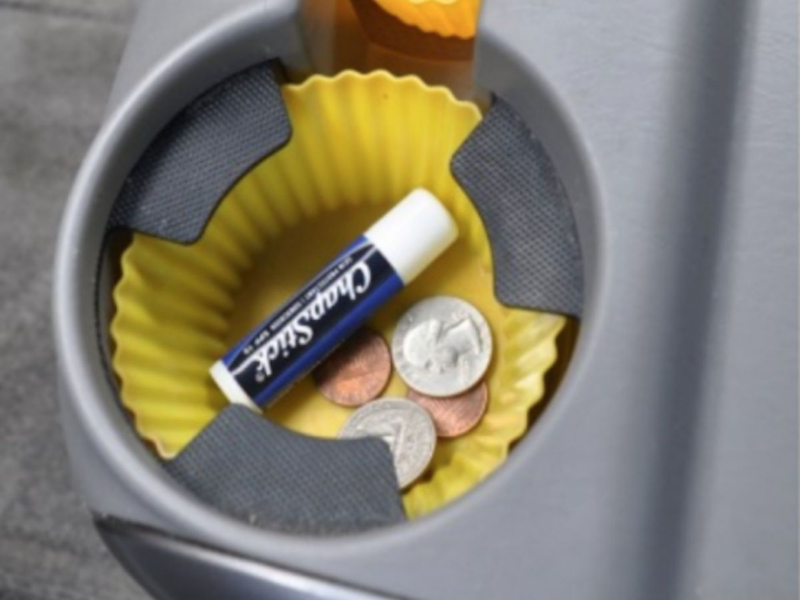 Carabiner Hooks
If you enjoy carrying items like additional water bottles in your car, you have to look for extra space under the seats for those fugitives. I tried to put the bottles in a bag, but they can still roll out quickly after a while behind the wheel. Now, if you add a carabineer hook to the bags, you have a safe alternative. All you have to do is clamp it to the carabiner through the bag's handle, then cut it off on the headrest brackets. Now you can easily access the bottles even when you're behind the wheel.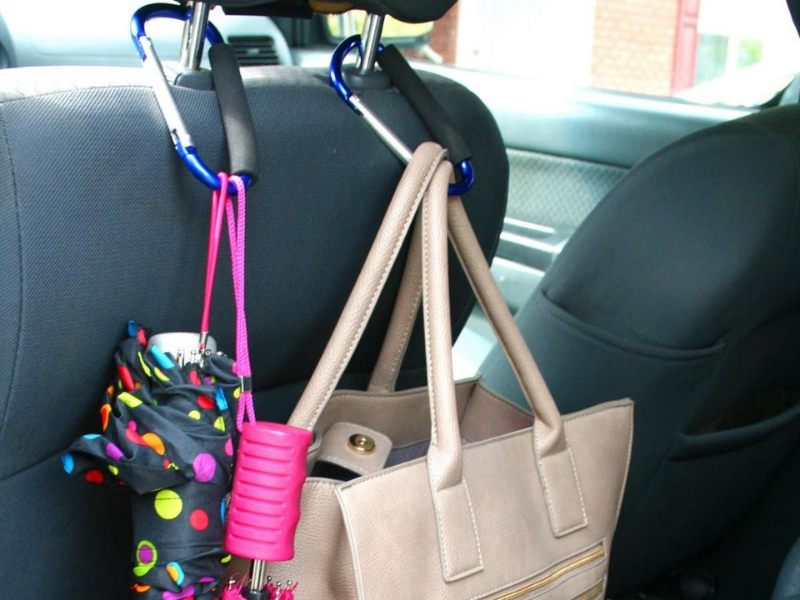 Muffin Pan Cupholder
Although it is hard to believe, eating and drinking in cars were almost impossible before. Rough roads and a lack of power steering and advanced suspension systems make it challenging and uncomfortable to eat or drink on the road. This modern creation consists of objects that you probably have in your home. The cup holders started later and are merely circular holes inside the glove box door. However, they have become an absolute necessity and is a critical feature that consumers assess when buying a new car. If you don't have one in your car, there is an easy way to make one. Get a clothes basket and a muffin pan. Place the muffin pan on the bottom of the laundry basket, and you have a perfect drink holder for your car. You can travel without the fear of letting down any drinks in the car or parking lot.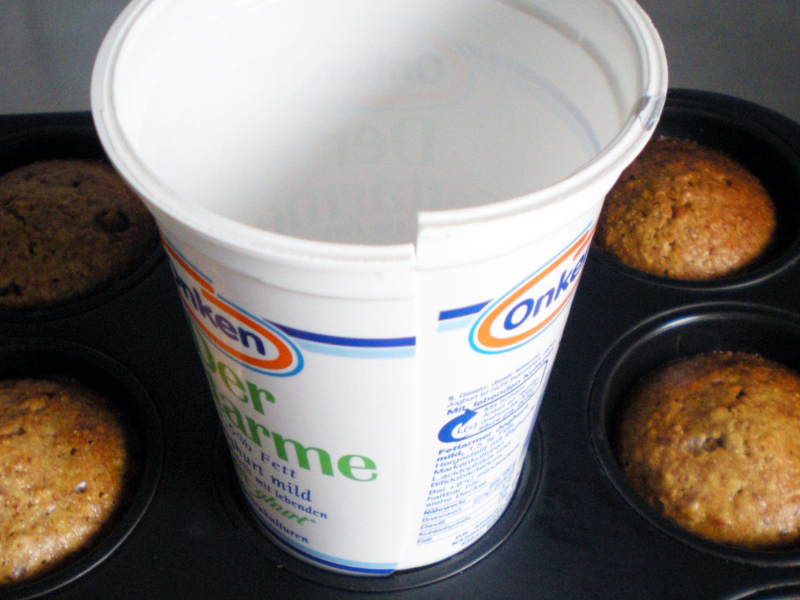 Laundry Basket For Groceries
The most challenging part of every shopping trip is organising all the bags in your car. The only thing more difficult is to bring all these bags inside when you come home. There is a simple, inexpensive, and safe organisation trick that will solve both problems at once. When you go to the grocery store, do not forget to pick up these big, plastic shopping baskets on sale, be sure to choose a couple for yourself! If you have a larger vehicle, you may find it helpful to take more than two, but two of them can fit pretty much everything comfortably into your car trunk!.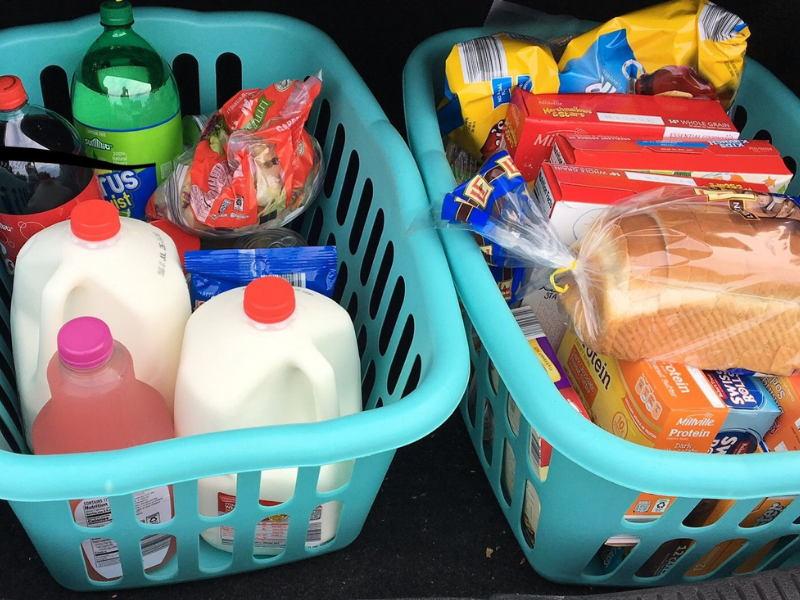 Kitty Litter
Your average morning might be a path filled with obstacles, especially in winter. After the moment you get out of bed, and turn off your hot shower unwillingly, check the weather, and choose the best coat, the last thing you want to do face is a foggy car window. A condensation-caked windshield isn't just annoying. It's also hazardous. It tends to subside with time and repeated finagling of the air system, but there's a quicker way to de-fog your windshield. It is through a kitty litter, which is going to absorb the moisture in your car that causes the glass to fog up.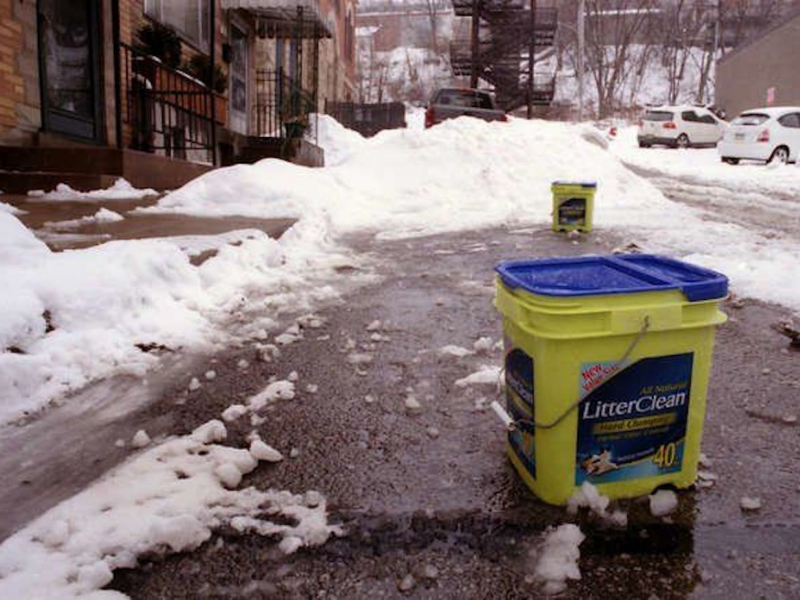 Kitty Litter Continued
On a cold day, if there is any moisture in the air inside your car – from passengers exhaling, snow on your boots, etc., you may come across fogging up of the windshield. A foggy windshield is not what you planned for, and you have trouble seeing the roads clearly, making the drive ahead dangerous. Turning on the heater is not what many people prefer doing, as it might make them feel sick or nauseous. So, if you are wondering if there is a way to fix this problem instantly, try filling a sock with cat litter and keeping it on your dashboard. It will prevent your windshield from fogging up.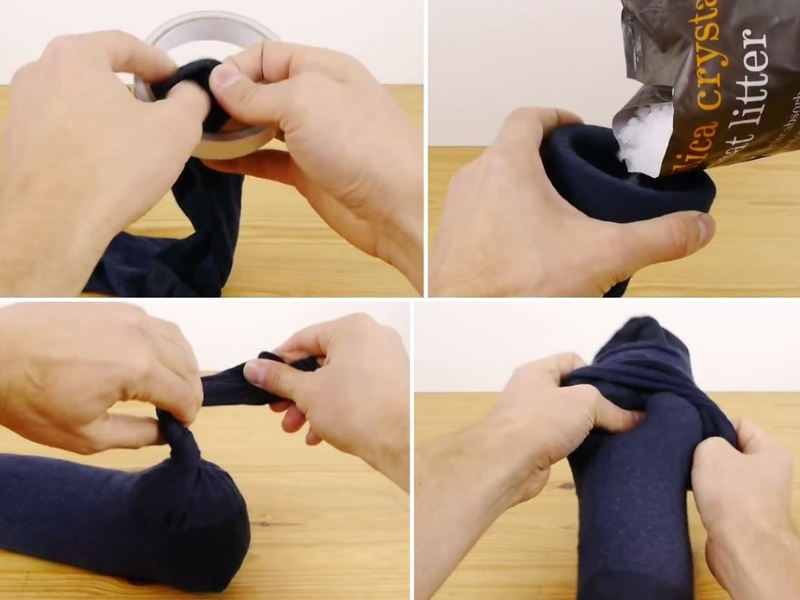 Command Hooks
We all know how tough it is to keep the car clean and organised—it's not like it comes with too much storage space at the start! You can use command hooks to align and hang all the cooking tools and keep them handy. You can also always move things and get them precisely where you want them. You can store these command hooks easily stored in our vehicles, too, as they help you hang small objects like handbags, backpacks or masks without your belongings going anywhere. Fix a command hook at ground level, and everything you need is easy to access, clean and neat.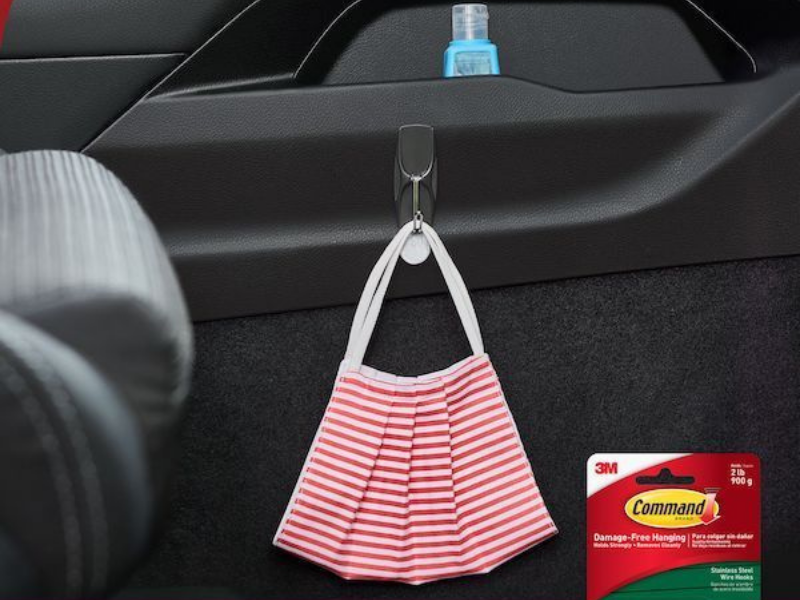 Ziploc Bag Over The Mirror
Ice is a wintertime hazard. The ice on the road and the frost built up on your car can hurt both you and your vehicle. Therefore, it is better to park the car in the garage during winter to prevent frost build-up on the windscreen and mirrors. If you only have the option of street parking, there is a clever trick for you. Put some Ziploc bags over your mirrors and cover them. It will prevent the ice and snow from sticking, making it less frustrating on cold days. Ice also affects the windshields and windows. To keep your windows from freezing overnight, all you need is a de-icer. You can either buy it from the store or make it yourself. The ingredients you need are vinegar and water (3:1). Spray the mixture every night to lower temperatures and improves effectiveness.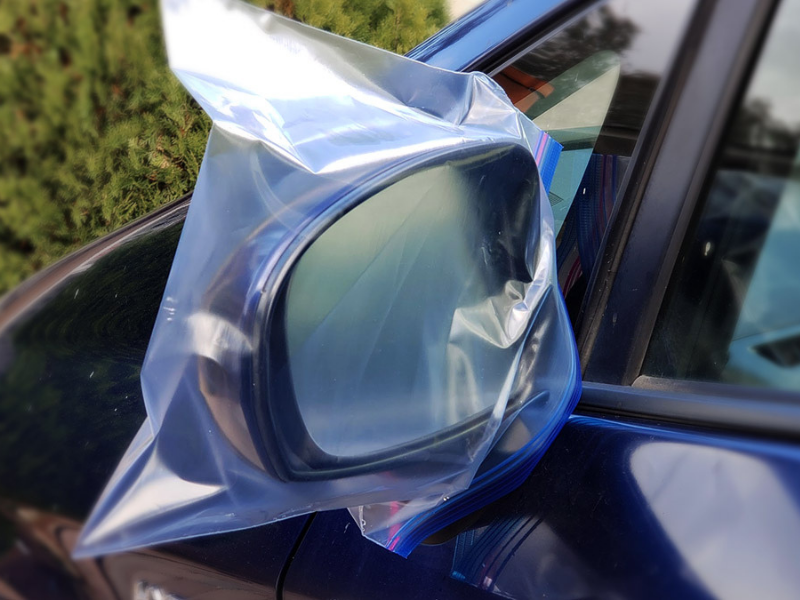 Clean Those Windshield Wipers
If you've been putting off cleaning your windshield wipers, this is the remedy for you. All you need to do is soak a clean white rag with your preferred window cleaner and wipe the wipers with it. You will see the dirt on the rag and be able to have a clear view even when it rains. Another method you can use is to use rubbing alcohol. Rubbing alcohol will remove all the debris from the wipers and help in maintaining an abrasive-free clean. It also enables you to eliminate excess grime from the blades, removing any previously existing squeaky noise.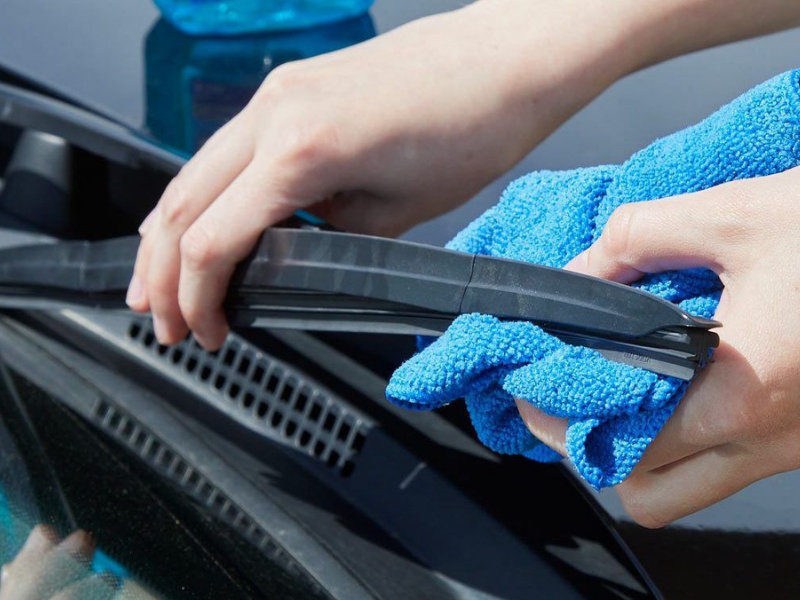 Paper Towels
Bungee cord storage is a straightforward storage hack. If you're using it at home, you will need four eye hooks, two bungee cords and a wall with open studs. However, this storage is not limited to the confines of your home. You can use it for your car as well. Use a bungee rope to attach a paper napkin roll to the lid of your trunk. There are different ways you can strap the cord, and it is just a search away. The towels will be easily accessible and don't take up a lot of space. The towels also won't get wrecked or smashed when driving.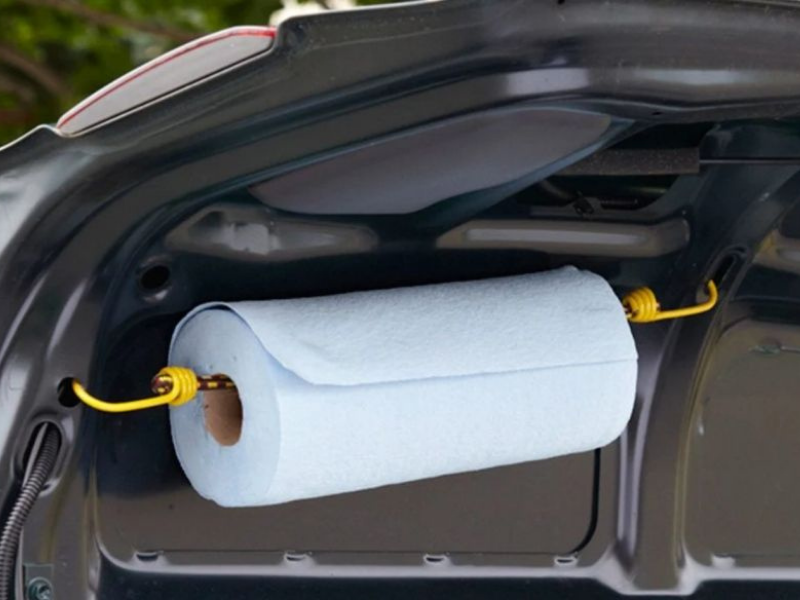 DIY Car Mats
If you own a car, you know how often car mats can get dirty and worn out. It is not always feasible to buy a new set of car mats. What do you do in times like this? You make your own. An easy way to make one is to clean your car and cut pieces of old carpet to fit on the car floor. When your DIY carpet becomes dirty with snow or sand, you can wash or throw them. These mats are best for the passenger and back seats. The carpets on the driver's side can slip and make it dangerous to drive unless grippers are attached underneath to prevent sliding.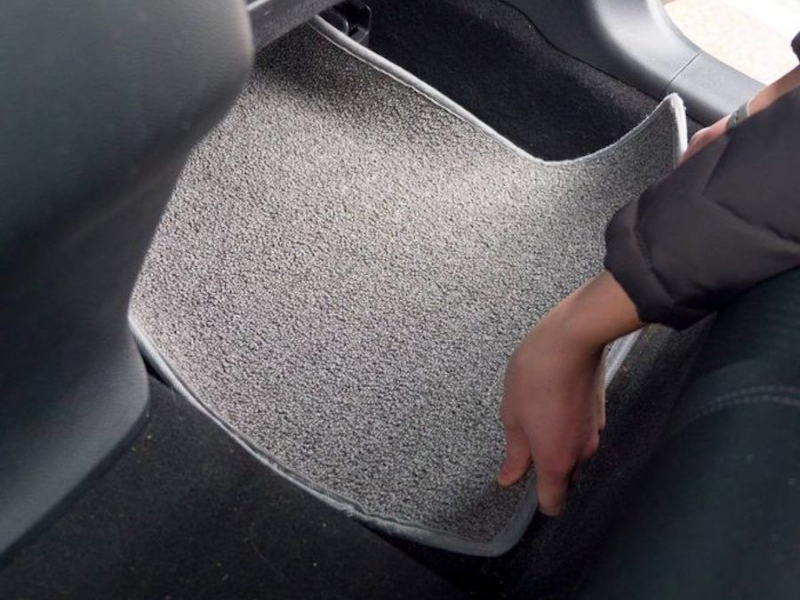 Vinegar On The Windshield
If you are worried about the ways of defrosting your windshield, you would have heard about the vinegar hack. There is a myth that using vinegar on an icy windshield will melt the ice. While using a vinegar mixture will not cause the ice to melt, it can prevent ice formation if sprayed the night before you drive. Mix two to three parts of apple cider vinegar with a portion of water and spray it on your windshield. The vinegar's acidity prevents ice formation, and de-icing your car the following day will be unnecessary. However, please don't use this mixture on a damaged or cracked windshield as it can cause more damage.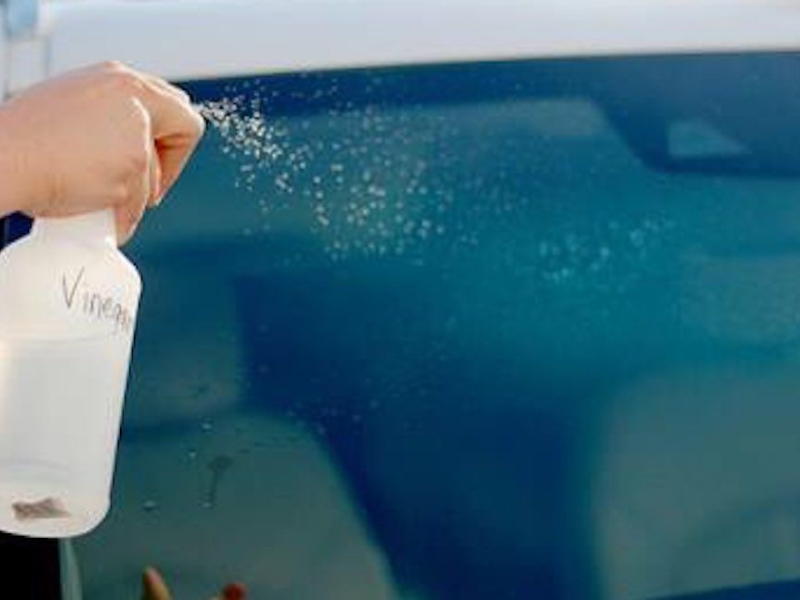 Remove Car Decals And Stickers Using WD-40
Many people have a habit of putting stickers on their bumpers or anywhere in their car. Once they grow out of their stickers, it is hard to take them off because of the sticky glue used to adhere the sticker on to the car's surface. Some people scrape off the sticker–including the paint–and this can your car unsightly or worse, your car might need a new paint job. So save all the trouble and effort by using a WD-40. How to use it? Spray some on the sticker, wait for it to soak for a few minutes, and then peel away! That's it!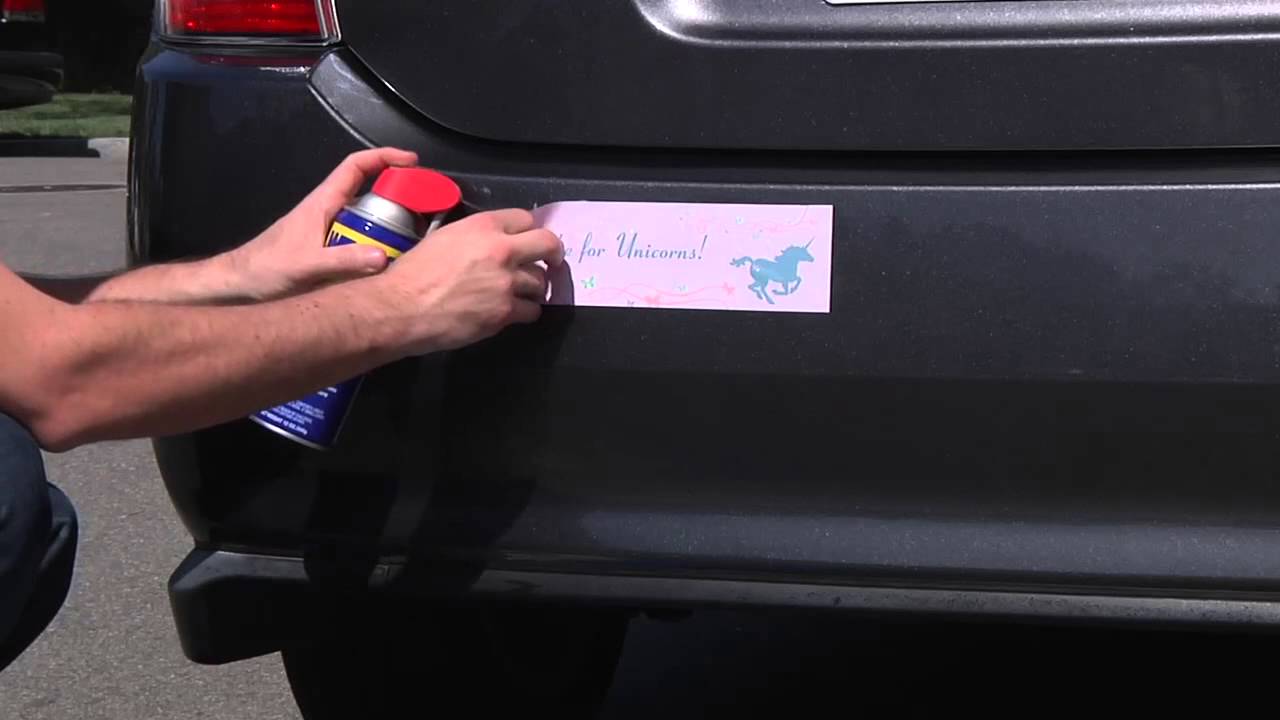 Make Your Own Washer Fluid
Commercial washer fluids do cost money. Further, they may contain chemicals that are harmful to both health and the environment. So instead of buying one, you can make your own washer fluid from ordinary household items. You only need at least 4 cups of water, two teaspoons of dishwashing detergent, and a tablespoon of baking soda. Mix everything and place in an empty bottle and spray away to remove the dirt and grime off your car. This DIY washer fluid works on any surface and since it is natural, it does not destroy fabric, leather, or paint.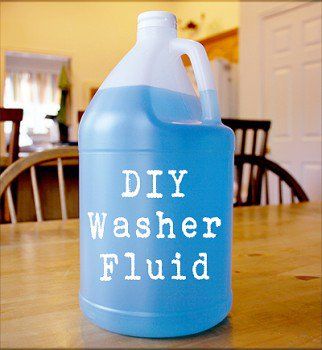 Use Q-Tips To Clean The Detailing
Cars often come with fine details that are hard to clean. If you want to create an on-point finish when cleaning your car, you can use a Q-tip to clean the tiny and narrow details of your car including logos and tiny vents. The thing is, Q-tips can fit anywhere as they are very small and absorbent. You can also use them to pick up excess cleaning products left from your clean-up in hard reach areas. And since Q-tips are cheap and come in big volume, you can never run out of cleaning materials for your car.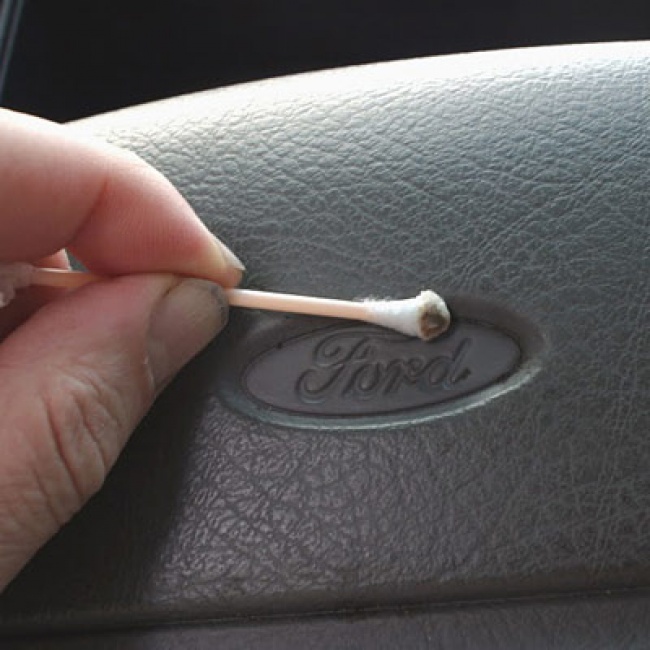 Use Clear Polish To Temporarily Fix Tiny Cracks On Your Window
When you are driving your car, there are chances that tiny pebbles may hit your windows causing it to produce microscopic cracks. The cracks, albeit tiny, can grow eventually and may shatter the windshield. How to fix this from getting bigger? Always keep a small bottle of clear nail polish in your car. A nail polish is an indispensable tool to temporarily fix tiny cracks on your car window. The nail polish will dry out and create a protective film so that the crack will not grow. This gives you time to safely arrive in your garage without fearing for your window shattering.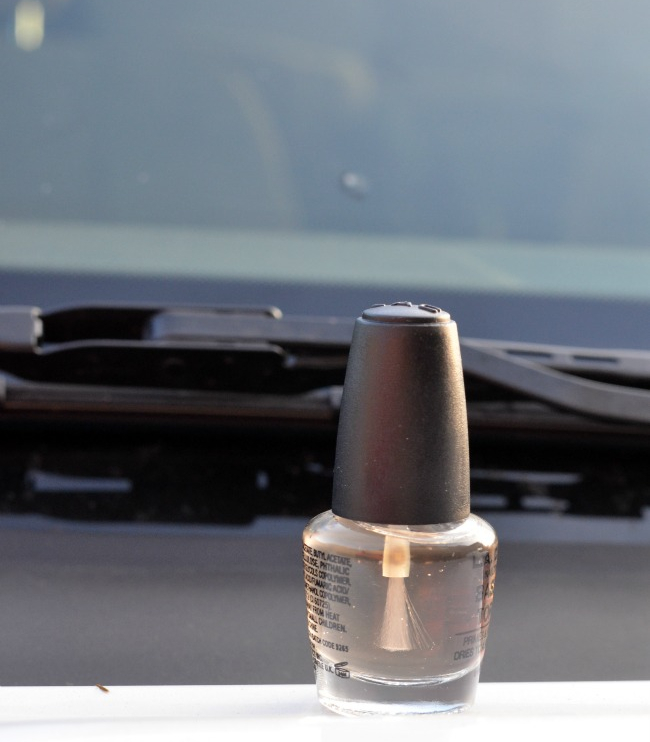 Use Vaseline To Revive Leather Interior
Reviving cracked leather interior can be expensive. In most cases, your car maintenance guy will recommend you to replace it entirely. But instead of spending a lot of money replacing your leather interior, you can revive it to its old glory using Vaseline. Yes, the lowly Vaseline is not only good for moisturizing your skin, it is also great for preventing the leather from cracking. Apply a dab of petroleum jelly on a cloth and rub it all over the leather. You can also rub it on the door seals to keep cold winter air from entering your car.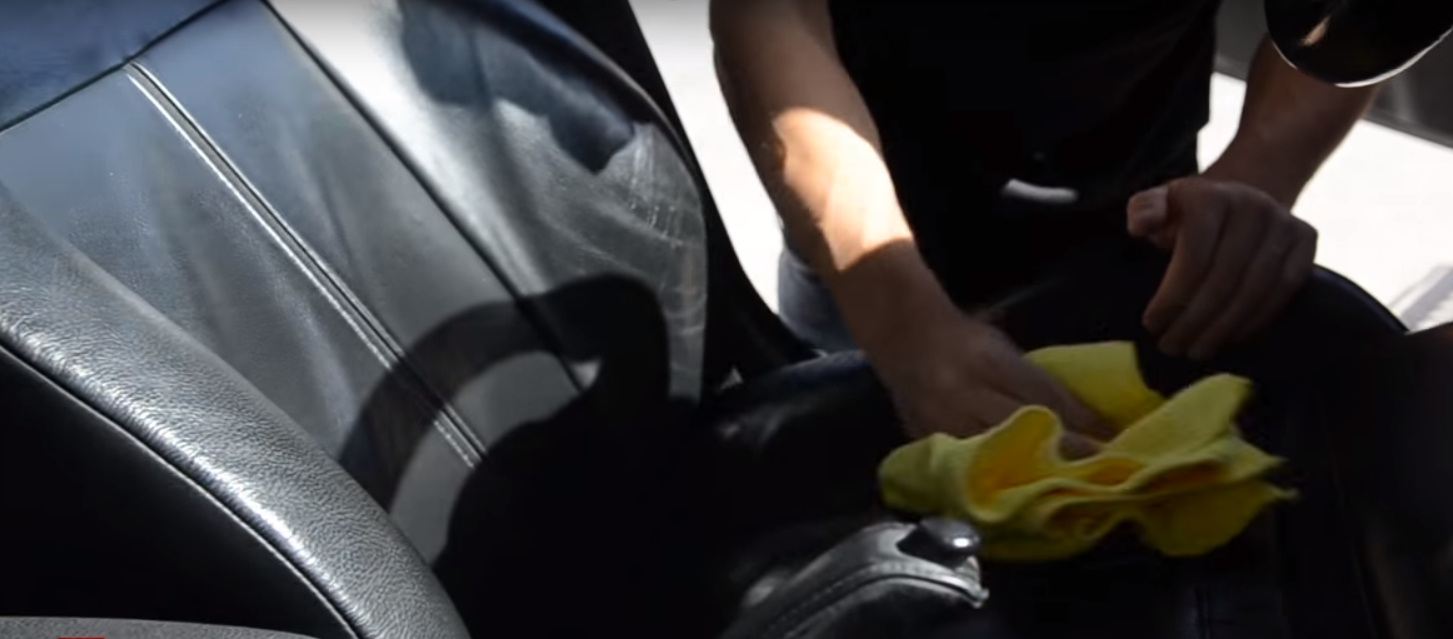 Use A Squeegee To Remove Hair And Pet Dander
Do you have pets? Then your most difficult cleaning obstacle will be removing pet dander from your car. Whether it is a dog or cat, fur babies shed a lot of hair. The traditional way of removing pet dander and hair involves hiring professional cleaners to vacuum your car. But did you know that you can get the same effects if you use a squeegee? Spray water on the seats that you want to clean and run a squeegee through the seats several times. All the hair will end up on the squeegee within a few run.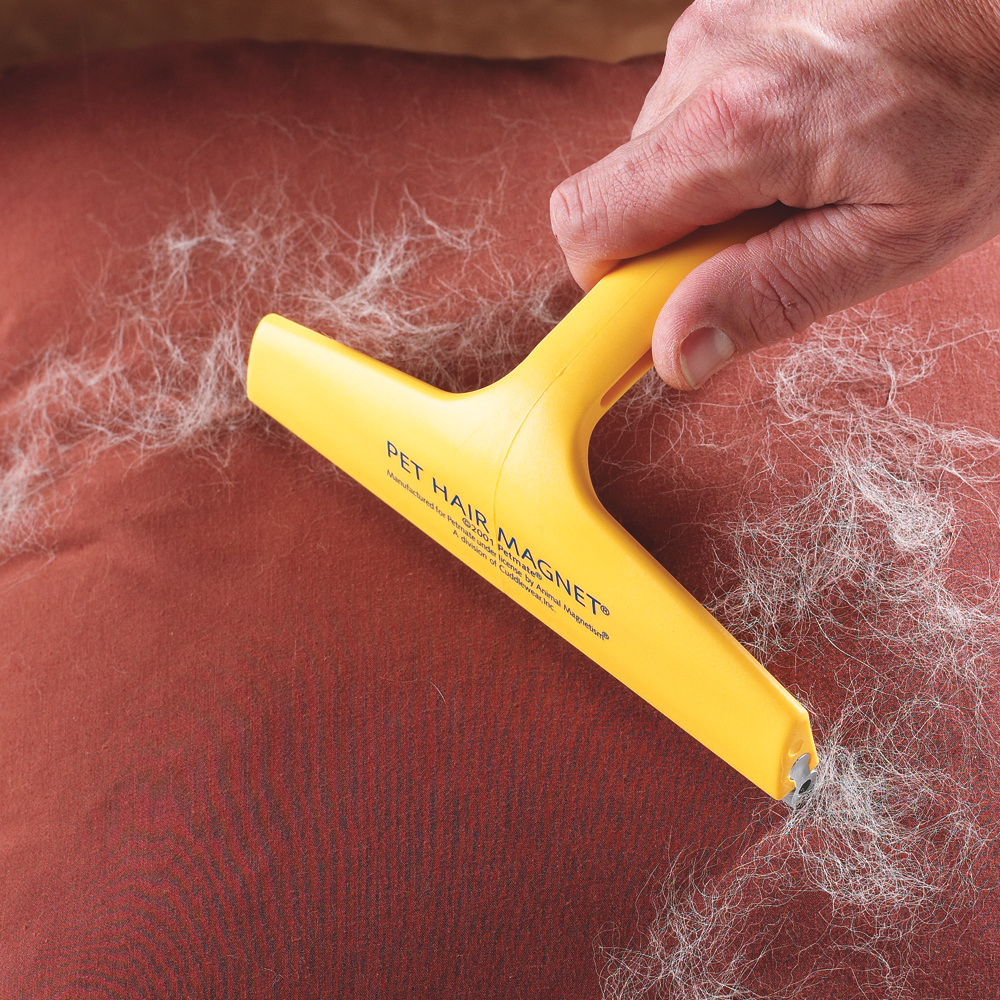 Use Baking Soda To Remove Unwanted Smell
You don't need to use an expensive air freshener that will only mask the stink in your car. Instead of spending money on car fresheners that will never work, you can opt for a simple and practical solution instead–baking soda. Baking soda has the ability to disinfect and purify your car so that it makes your car smell fresher. What you need to do is to spread copious amounts of baking soda over the seats or mat and allow it to sit for a few hours before vacuuming off the baking soda to effectively remove the smell.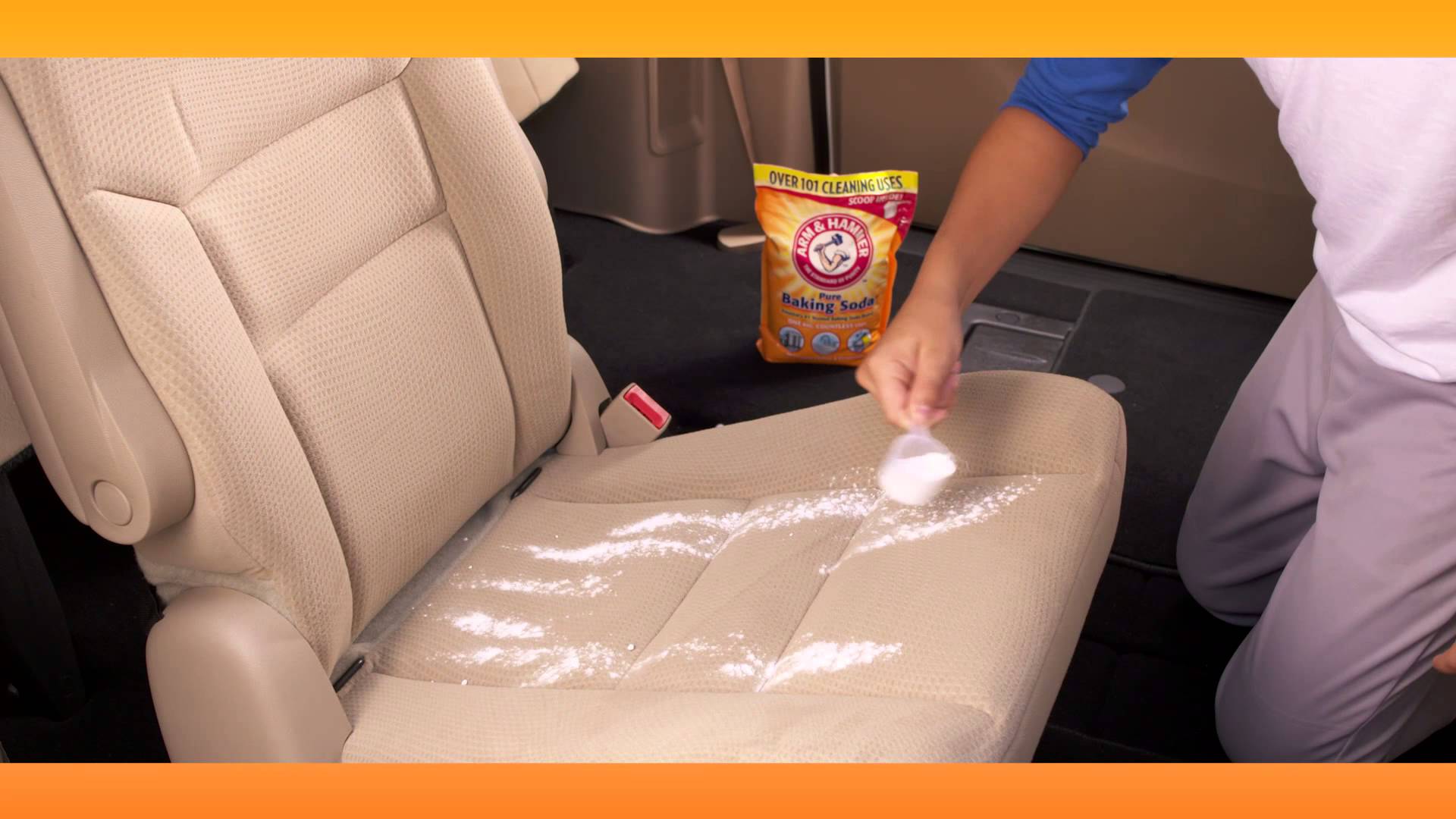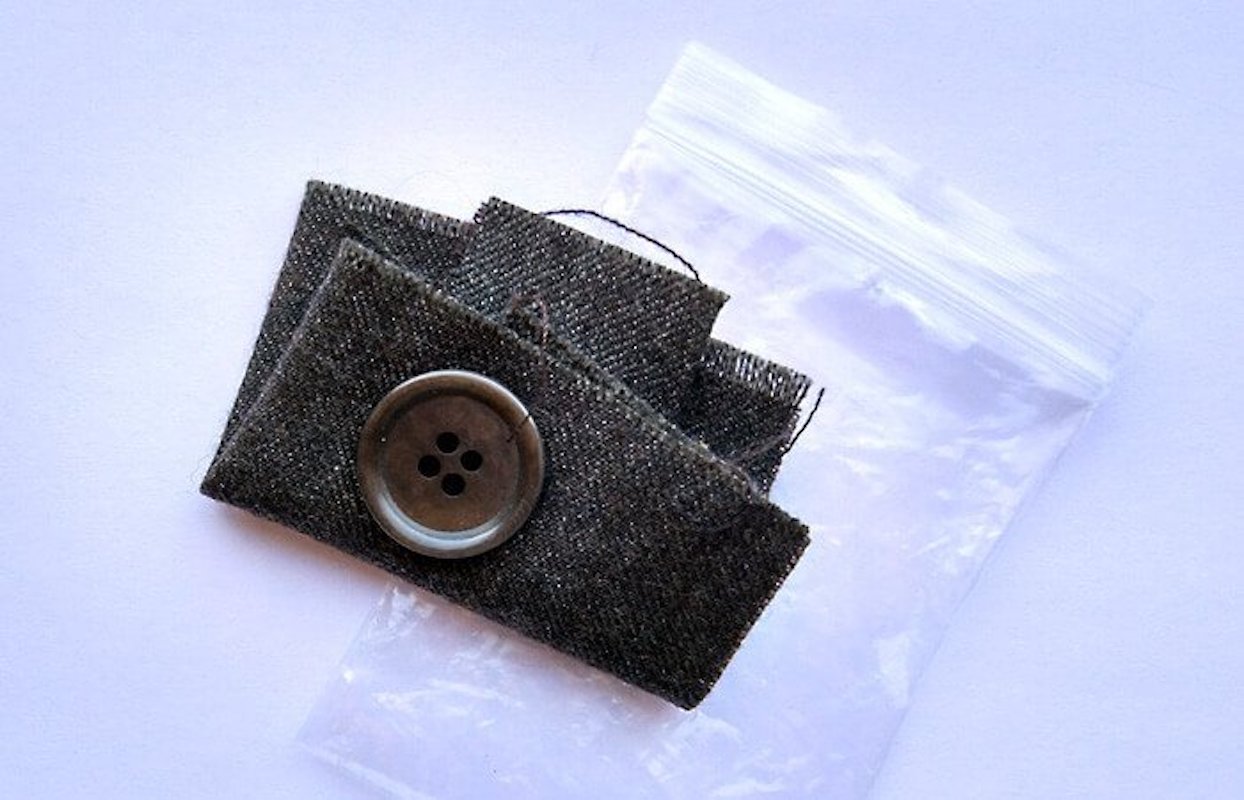 Use Hair Conditioner For That Waxy And Shiny Exterior
Constantly going to a professional car wash can be costly especially if your car gets dirty, often. The thing is, you don't have to spend too much money on expensive car wash when you can use your favorite hair conditioner to make your car look shiny and extra waxy. Yes, conditioner works in making your car get the exact look as though it was taken to an expensive body shop. Use a conditioner that contains lanolin as it imparts the waxy finish. Apply conditioner and buff the car using circular motions until it becomes extra shiny.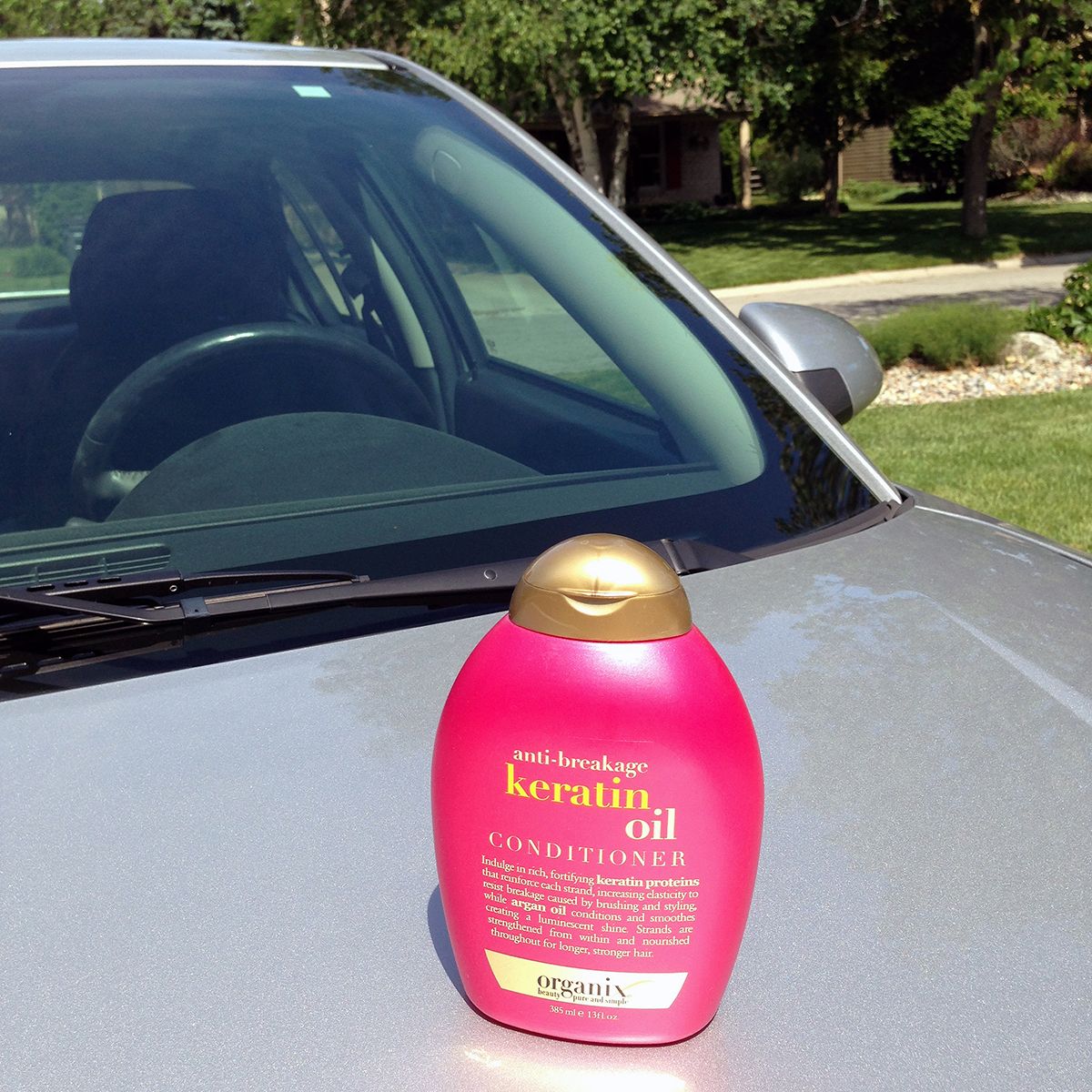 Use Soda And Toothpaste To Clean Your Headlights
It is important to always keep your headlights clean. The presence of dirt on the headlight dims it so you are not optimally making use of its light. The brighter your beams are the better for you to see and drive at night. You can go to a car shop and spend hard-earned cash to have your headlights professionally removed and cleaned, but another effective yet more practical and inexpensive method is to simply use some Coke or Pepsi!
Wet a clean microfiber cloth with some soda (or simply dump soda all over the dirty headlight), and begin to lightly scrub the debris off. Rinse off with water and dry using a clean towel and you're done! If the stain or dirt is being stubborn and not coming off after 2 or 3 attempts, try using some toothpaste. Let it sit, scrub it in a circular motion, and then clean again with soda. Wallah! As a side note: soda can also be used as a substitute for Windex for cleaning your windshield — it's a great all around glass cleaner!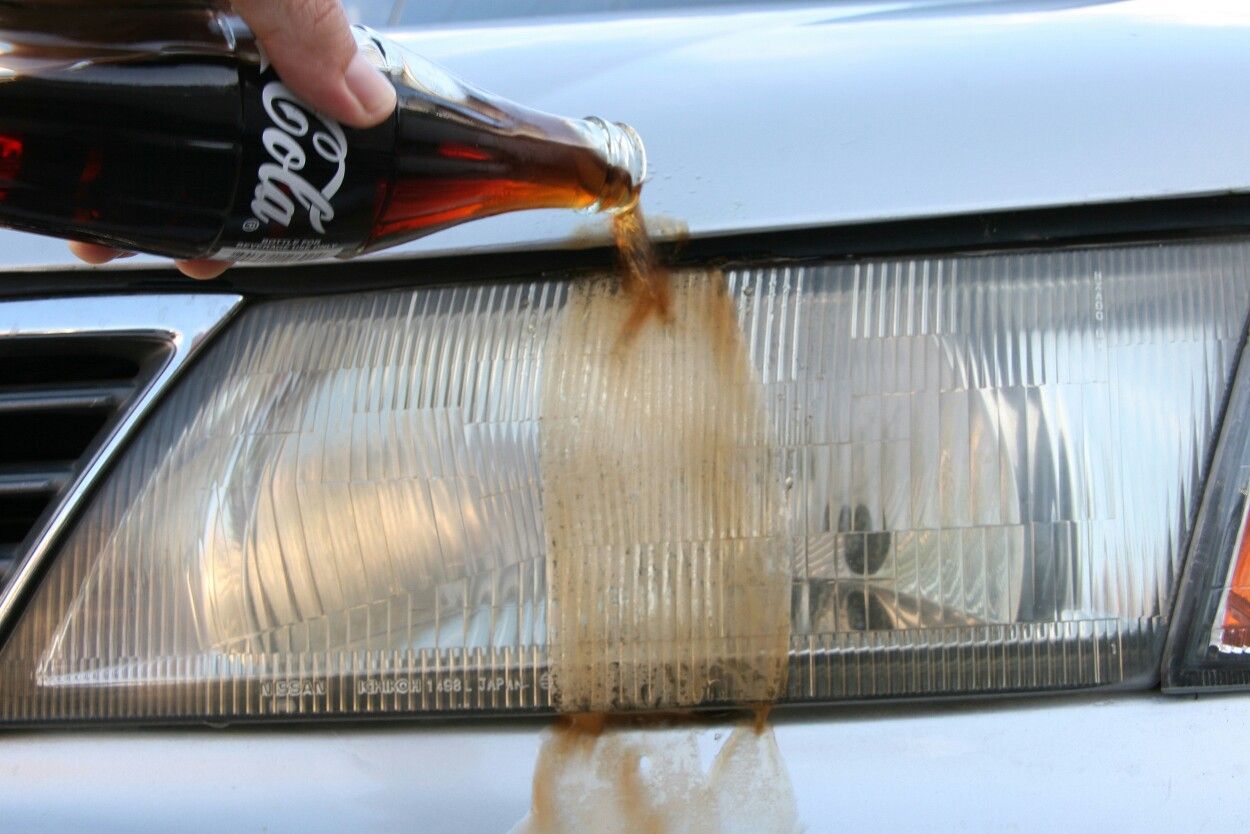 Use Cupcake Molds To Easily Clean Cup Holders
Cup holders, if not cleaned properly, can harbor a lot of filth overtime. People don't only put coffee cups in cup holders but anything under the sun. In fact, most people tend to forget about cleaning them thus they become a disgusting and gooey or worse—germ-infested receptacle. An easy way to keep cup holders clean is to put cupcake molds or liners at the bottom so that the filth gets in the liner and not on the actual cup holder. Once you are ready to clean your car, you can take out the old cupcake liner–dirt and all included–and simply replace it with a new one. Easy as pie!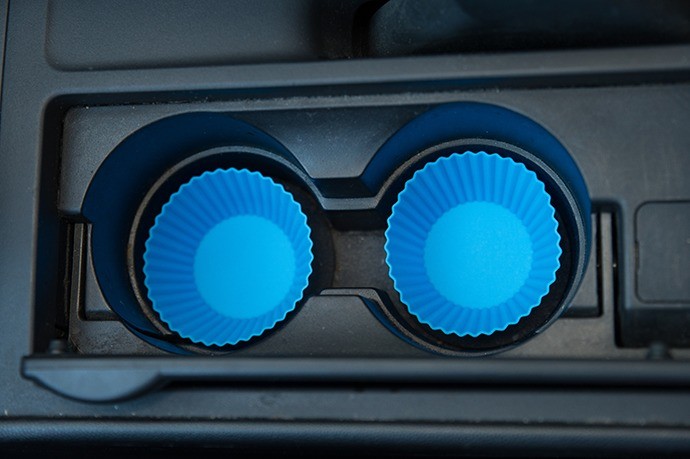 Use Rubbing Alcohol To Clean Wipers
Have you ever experienced using your wipers to remove dirt from your car only to find out that they leave behind streaks of dirt? This means that you need to clean your wipers now. Cleaning your wipers is very important because it effectively removes rain from the windshield keeping your field of vision unobstructed. Here's an inexpensive tip, you can use alcohol to clean the wipers. To do this, wet a cloth with alcohol, rub the wiper blade along its length to remove the dirt and keep it functioning like new. No more streaks once you are done!
Freshen Your Car With Scented Wax Candle
Using commercial air fresheners do not really effectively remove the bad smell in your car. Moreover, they may contain strong chemicals that can cause different reactions like burning of eyes or throat. If you want to make your car smelling good without using strong chemicals, then you can use your favorite scented wax candle.Place it near the dashboard where the sun can heat it up easily. Once it heats up, it releases its natural smell and freshens up your car. Apple-scent, anyone?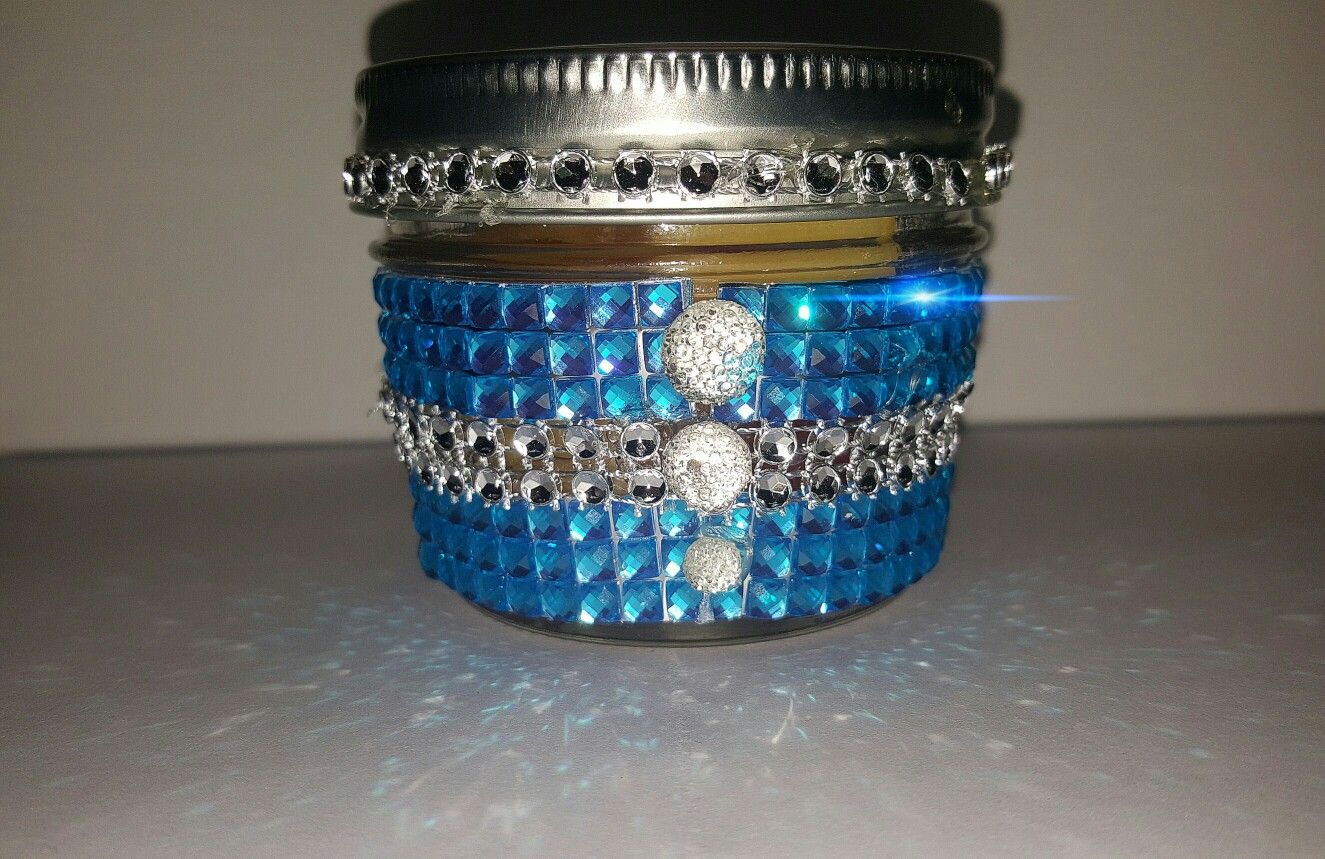 Use Newspapers To Clean Windows
Dirty car windows should be cleaned to clear your field of vision. But how do you effectively clean your windows if regular soap and water are not effective? You use newspaper instead. First, crumple the newspaper and spray your car window with water or a window cleaner. Use the balled up newspaper and wipe your window clean and dry. The best thing about this method is that you also dry your window immediately. When using this hack, make sure that you don't do it on tinted windows because crumpled newspaper works like an abrasive.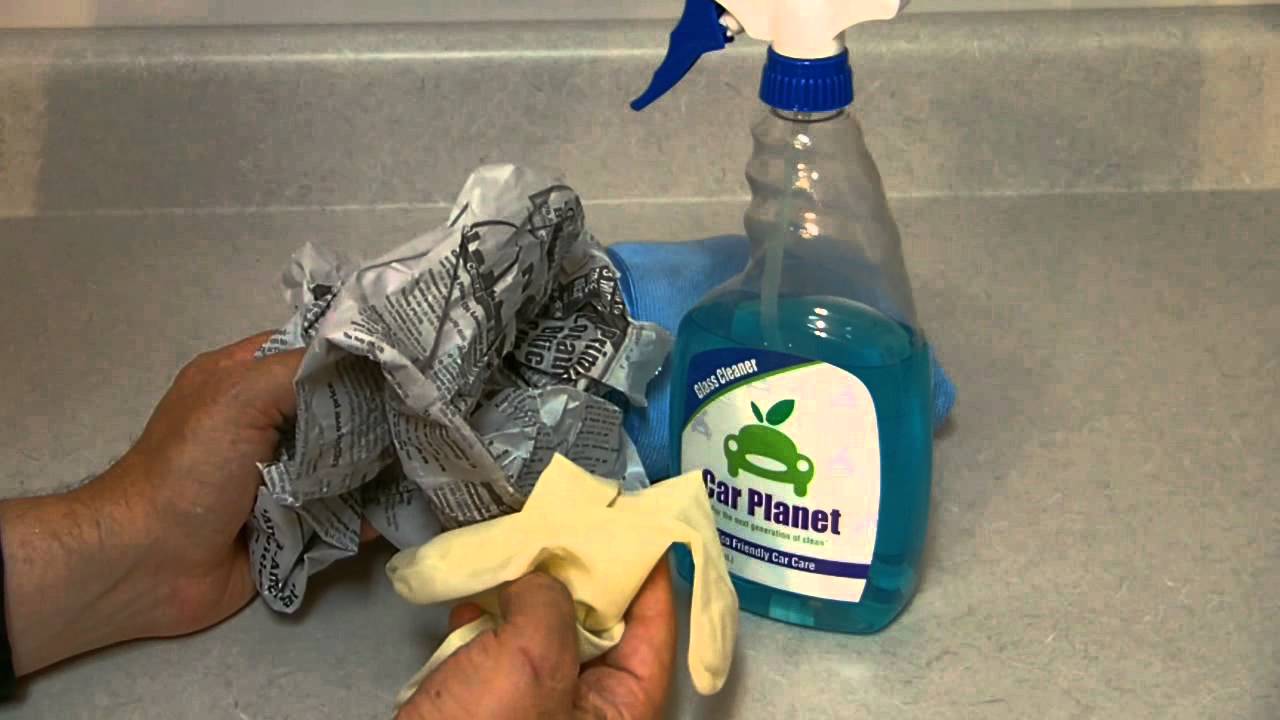 Use Vinegar To Remove Salt Buildup
Salt buildup is very common during the winter months when salt is used to melt ice and snow. When you are driving on roads that have been treated with salt, tiny salt crystals can find their way onto your car's bodywork. As a result, it creates streaks and patterns of crystallization that makes your car look unsightly. So how do you remove salt buildup from your car's exterior without damaging the paint? Use a mixture of vinegar and water and spray it on your car where it is needed. The salt will melt and you can use a towel to clean it off.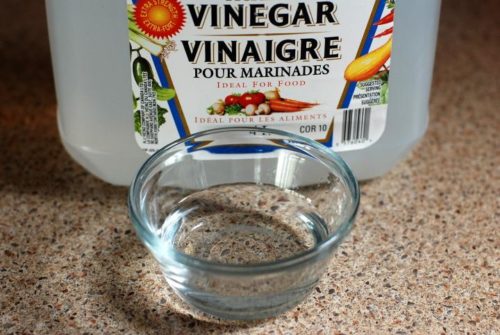 Use Silica Keyboard Cleaner For Some Hard To Reach Places
Narrow spaces in your car often harbor a lot of dirt like dust, grime, and hair. Cleaning them requires a lot of elbow grease. But instead of laboring so much on cleaning hard to reach areas, you can use silicon gels instead. Silica keyboard cleaner is very interesting trinkets. They take on different shapes and they are very sticky. All you need to do is to press them onto a surface that you want to clean and pull them so that the dirt and grime will adhere to the gel. You can use it to clean air vents and others.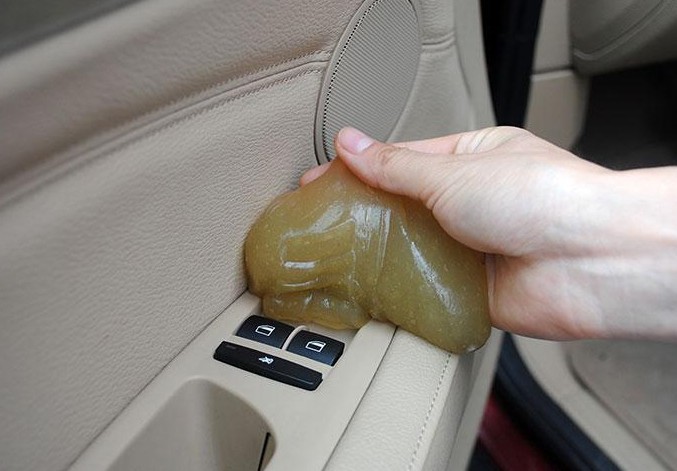 Spray Bleach On Your Wheels To Make It Look Shiny
Cleaning your car's exterior also involves cleaning the rims of your wheels. Instead of going to a body shop to have your rims done, you can use this simple hack and save dollars. All you need to do is use bleach powder and sprinkle it onto a cloth rag. Add a splash of Lysol to the cloth and rub the metal rim of the wheel to remove the grime and reveal the original sparkle of the metal. Rinse and you are good to go. When doing this hack, however, make sure that you wear gloves.

Clean Your Air Filters
Ever wonder why even if you have already used air fresheners and purifiers, your car still smells stale? While air fresheners mask the problem, you are not really dealing with the root cause. The reason why your car smells bad, despite your efforts, is because your air filter may be dirty. If your filters are dirty, it can harbor mold and other microorganisms that can lead to respiratory diseases and an unpleasant smell to your car. Make it a habit to regularly clean your air filters and you will definitely notice the big difference!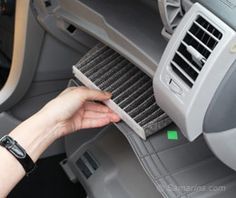 Use Soda To Remove Rust
Cars do rust over time and if you don't do something about, the rust will eat away the metal parts of your car slowly. Removing rust, the traditional way requires the use of caustic chemicals that can burn, not only the skin but also cause irritation to the respiratory system. To remove rust safely, you can use soda as it contains a strong acid that can break down rust. All there is to it is to spray and wait for a few minutes before wiping off the rusty part of your car. Do this regularly until rusts are no longer an eyesore.
Use Compressed Air Keyboard Cleaner To Clean Air Vents
Air vents can harbor a lot of dust and dirt and it is important that you also clean them. But since most parts of the air vents are inaccessible, there is still a way to dislodge the dirt by using compressed air from a keyboard cleaner. Compressed air sends air at a high pressure and speed through a thin straw thus it allows you to direct the airflow to the part of the air vent that needs cleaning. To catch the dust, you can also work with a hand vacuum to collect the dust that has been removed from blasting compressed air.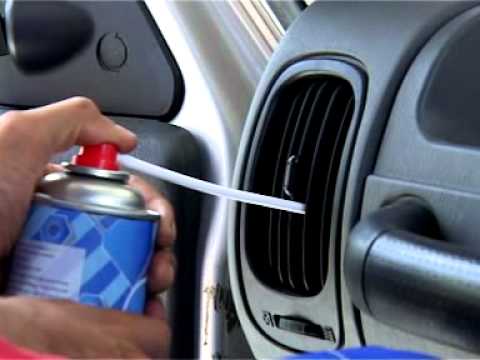 Dryer Wipes To Remove Bugs On The Bumper And Windshield
If you are traveling along a country road, then you will definitely have a lot of splattered bugs all over your bumper and windshield. Dead bugs do not only look gross, but they can also obstruct your line of sight. It is therefore important to remove them so that you can see the road clearly and drive safely. An effective way of removing dead bugs is to use dryer wipes. Wet the dryer wipes with a small amount of water and rub the sheet gently on your car to remove the bugs. Once done, you can go on your way without any problem.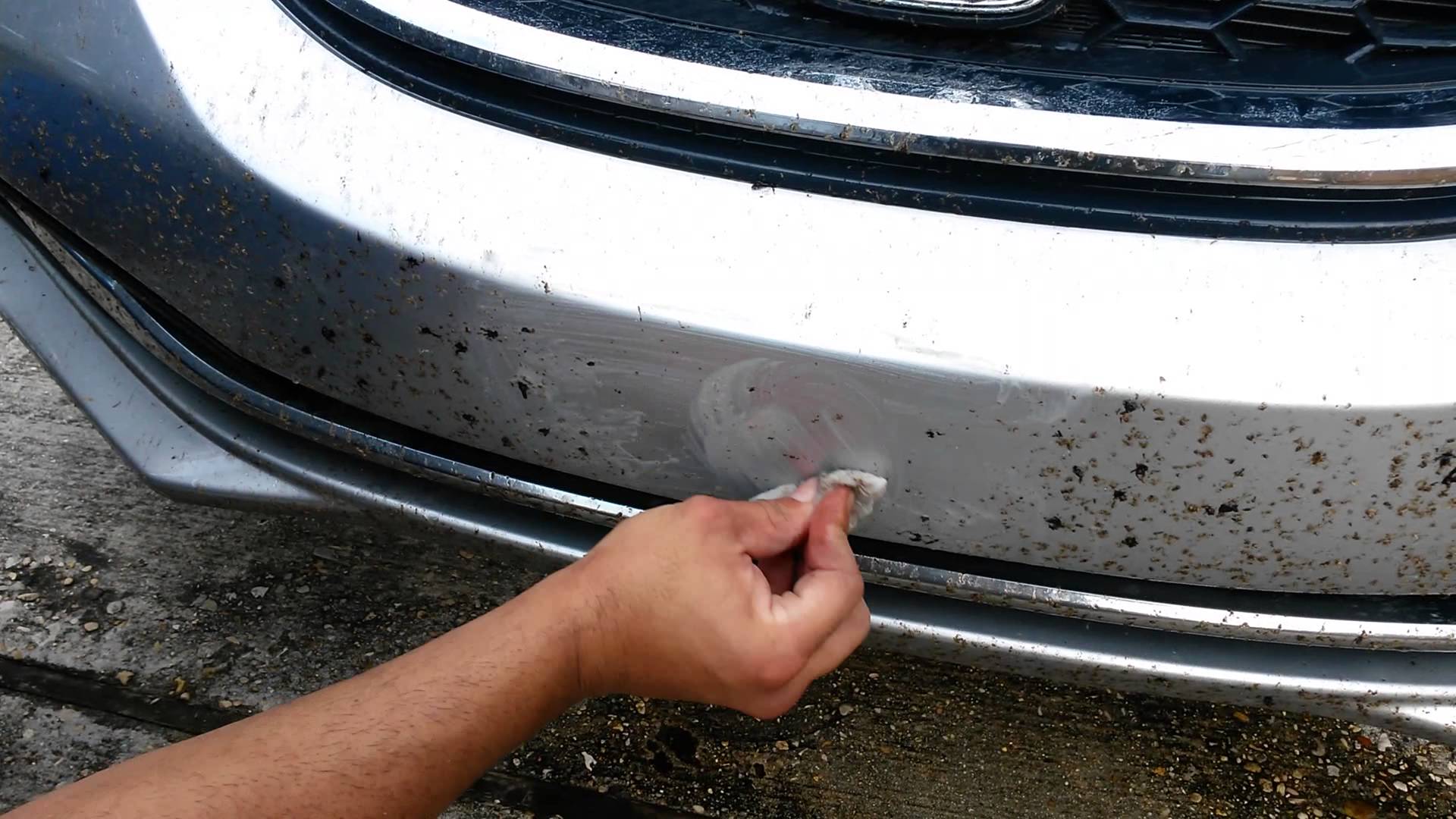 Machine Wash Your Floor Mats
Car floor mats are very disgusting. They are not full of dirt, grime, and dust but they may also contain pathogens that can cause different types of diseases. It is therefore important that you wash your car floor mats regularly. And instead of going to an auto detailer and paying an arm and a leg for them to clean your mats, you can machine wash them yourself. All there is to it is to spray stain remover and put them in the washing machine with your favorite laundry detergent. Set the machine to gentle wash and allow to dry under the sun. Voila! Clean floor mats!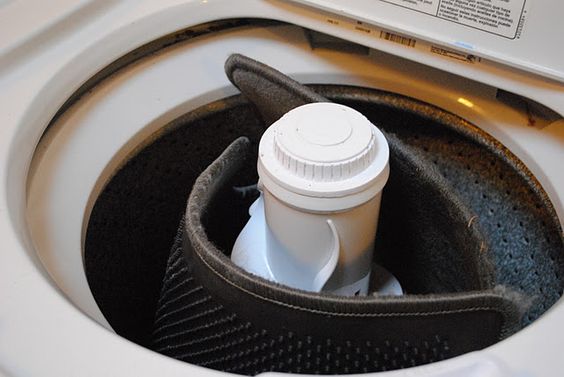 Place Sheets Under The Car Seats
If you have children, then they are more likely to cause an incessant stream of mess in your car. Be it morsels of foods or pieces of trash, cleaning your car seat can be challenging. To reduce the time you spend cleaning your car seat, place sheets underneath to collect all the mess. That way, when things fall through the seats, the sheet will collect everything. This will save you time and backbreaking labor in cleaning underneath the car seat. All you have to do is take the sheet out, shake it off, and return it.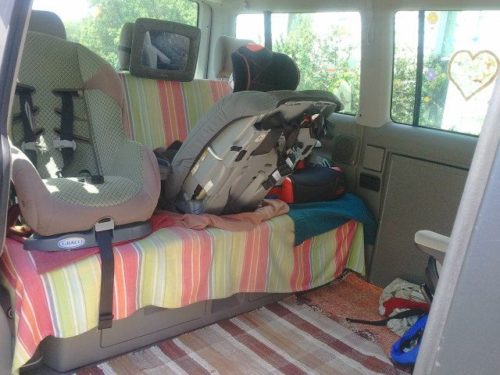 Always Hand Dry Your Car Exterior
Some people don't do anything after washing their car. The problem with leaving your car wet and allowing it to dry naturally is that the car may get water spots that can look very unsightly. To avoid such a problem, it is important that you always hand dry your car exterior using a large towel. You can also apply your preferred buff in order to make your car look very shiny and new as though it came fresh out of a car catalog.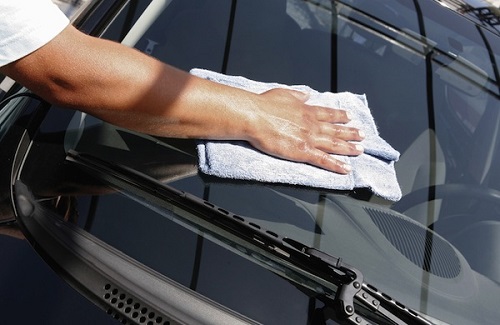 Buff Your Interiors With Olive Oil
There are so many ways to buff your car's leather interior but if you use the wrong product, it will stain your leather interior and will make your car look cheap. One way to buff your car's leather interior is to use olive oil. Put a little bit of olive oil on a cloth and rub it in circles on your leather seat. This creates a natural shine on the leather finish. The best thing about this cleaning hack is that it is natural and devoid of any substances that may harm both leather and your health.
The Hidden Umbrella
We have all been there — you arrive where you need but it's raining and your umbrella is in the trunk. No matter what you do or how fast you move you will get drenched. Now imagine, your umbrella is cleverly stored inside the door. A few manufacturers have been putting this feature in all of their cars for quite a few years and more are bound too soon. The umbrella hidden inside the door is a genius idea that we're sure will be in all cars before not too long. Even if your car doesn't have one built-in, you can buy one aftermarket and install it yourself for under $20.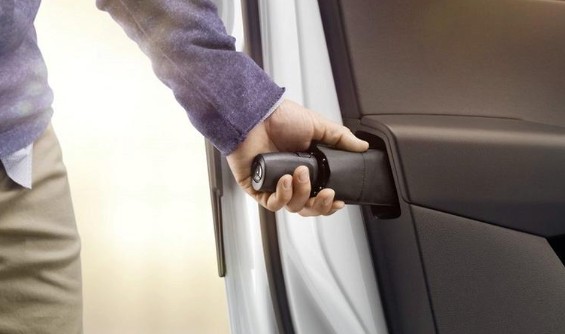 Having Baby Wipes On Standby
If you're a parent, you may have already caught on to this little trick. If not, consider getting a container of baby wipes and keeping them in your car. Hopefully, you won't ever need them for the same reason that they're used on babies, but you can put them to good use. If someone in your car has sticky hands, they're the perfect solution. It's also good to have them on hand to help remove stains or for any other cleaning emergencies that may present themselves during a car ride.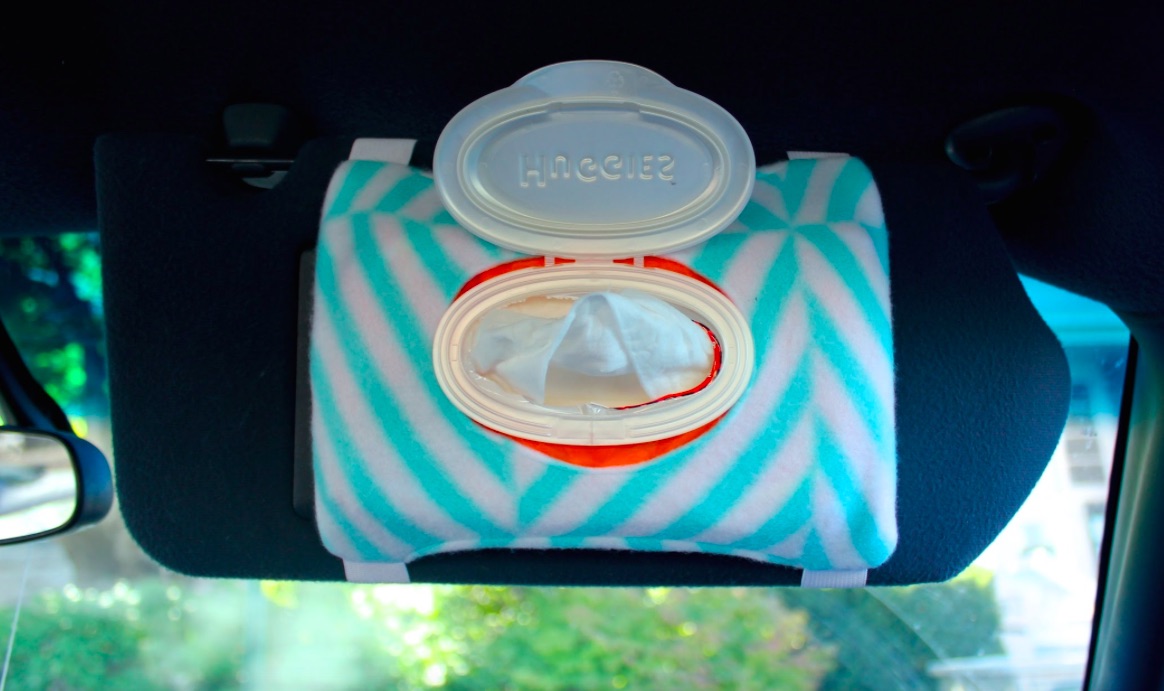 Coffee Filters For Dusting
Whether you're a big coffee drinker or not, try keeping some filters on hand in your car. It turns out that coffee filters are great at cleaning dust from your dashboard and a few of the other surfaces inside your car. Whenever you have a spare moment, just brush the coffee filter throughout the car to capture some of the dust that may have built up. They may be thin and cheap, but they are quite effective at cleaning. It also helps that they're biodegradable, making them an ideal cleaning product, especially for use inside your car.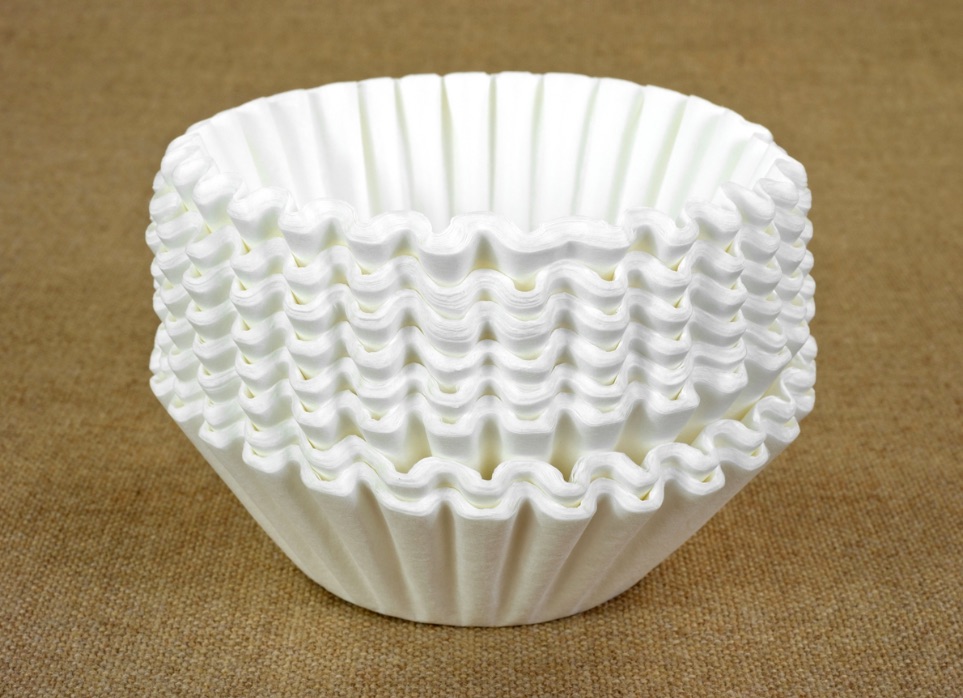 Cereal Container As Trash Can
It's always wise to keep a trash bag in your car so you can dispose of used tissues and wrappers when people eat snacks in the car. You may find it useful to use plastic cereal containers in lieu of just a plastic bag floating around the backseat. These are designed to keep your cereal fresh, but they can also keep the smell of your trash contained. If you need to put something in the trash, just pop the top and close it up when you're done. Just line it with a grocery bag and you should be good to go.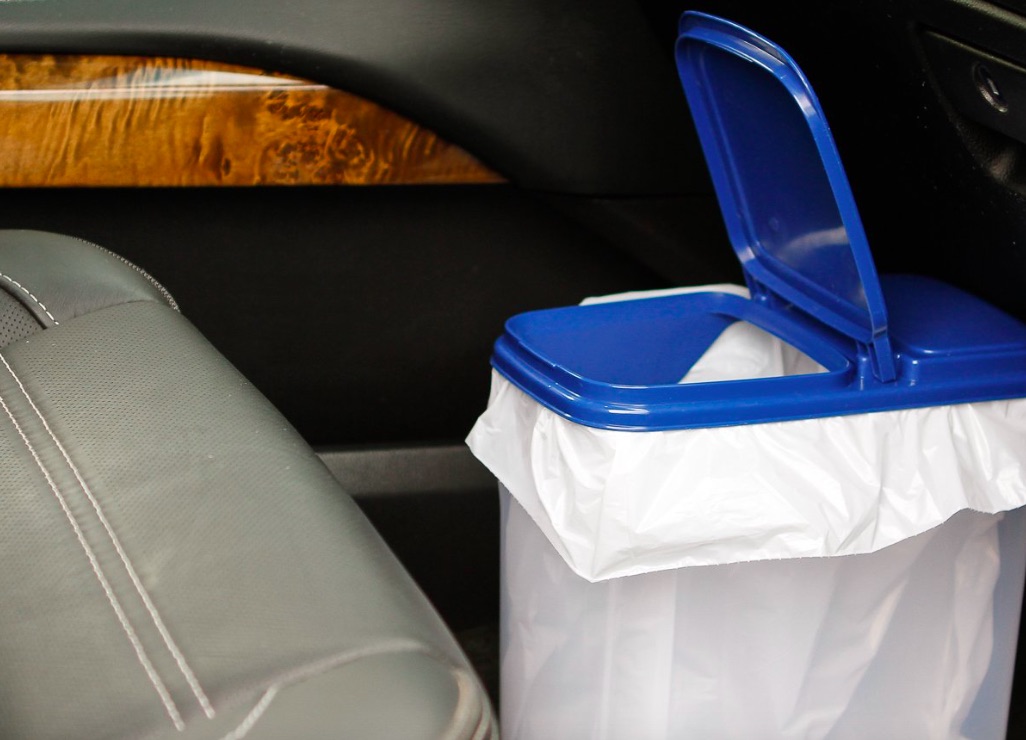 Cooking Spray On Bugs
No matter how hard you try, bugs will always go splat on your car, and you can't always wash the entire car just to do away with a few bugs. One alternative is to use a cooking spray like Pam or a similar product. Just spray some onto the bug splatter, let it sit for a minute or so, and then wipe it away with a microfiber cloth. Just like that, the residue from the bug splatter will be gone without doing any damage to your car's paint job.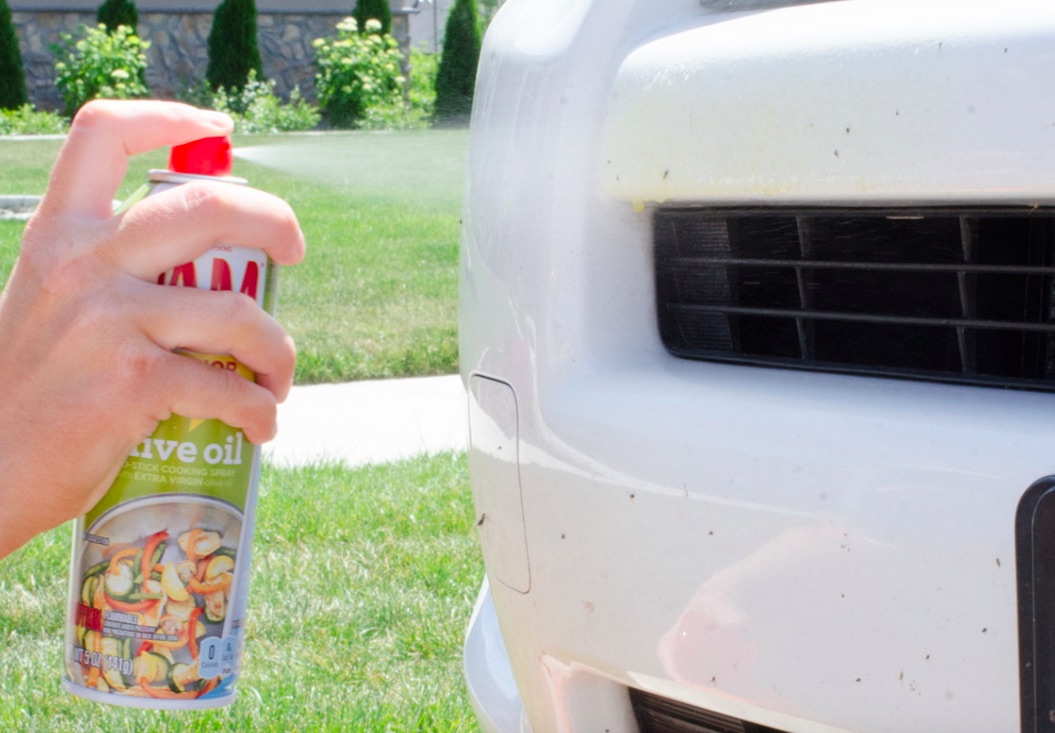 Hairdryer To Remove Bumper Stickers
Bumper stickers can be a pain to remove from your car, but one way to address this challenge is with a hairdryer. The heat from the blow dryer will help to loosen the adhesives that keep the bumper sticker on the car. Once the sticker has been loosened by the heat, you can use any plastic credit card to peel it off. In addition to bumper stickers, this technique can work with parking permits, outdated registrations, and any stickers you may have on your car windows.