"Love made me do it"
By Matt Christensen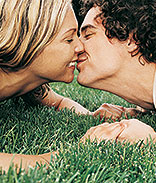 It's true — love makes you do things you normally wouldn't do. Guys turn into mush, girls start giggling, and everyone watching them gags in disgust. But, hey, that's love. What else has the power of love driven people to do? Well, as you'll see from these stories, quite a bit. Some have happy endings, others don't (sorry!), but all show that love can make a person do incredible things…
I went to bat for her engagement ring
"My girlfriend and I had been together for about three years, and I was sure she was the one I wanted to marry. Problem was, I didn't exactly have enough money to get her a good engagement ring. So, in order to raise funds, I put my collection of baseball trading cards on eBay. We're talking a collection that spanned, like, 20 years, thanks to some cards handed down by my dad. I was totally bummed to part with them because they were so important to me, but I really, really loved this girl. I ended up making more than enough money to pay for a ring. Problem was, when I got down on one knee, she told me that she couldn't see spending the rest of her life with me. I should've stuck with Shoeless Joe Jackson."
— Owen, 26, Chagrin Falls, OH
You see i have said it before and i will say it again ...love is for the foolish .......it makes people do some stupid shit !!!!!
Thank you to matt christensen for this funny ass story ....i
If you need love get a bull dog it will follow you into the fires of hell .....