Well they say everything in america .........is for sale ........well you see even the wall is for sale .......that donald built .........i am not sure if it could have kept people out some ........but not all......... a desperate man will find a way ......desperate people .......... if they want to get in......... will get in .....simple ........... simple dolly dimple ..........so is it going to be an auction ....can you buy a portion ...what ios for s ale ???????.......what are they selling......... a section that you own ......or the scrap metal !!!!!!!......who knows????? ....who cares !!!!!!.......i don't .......... if it is the pentagon????? .............somone will fuck up .....for sure ......
Exclusive: Pentagon Sells Off Trump Border Wall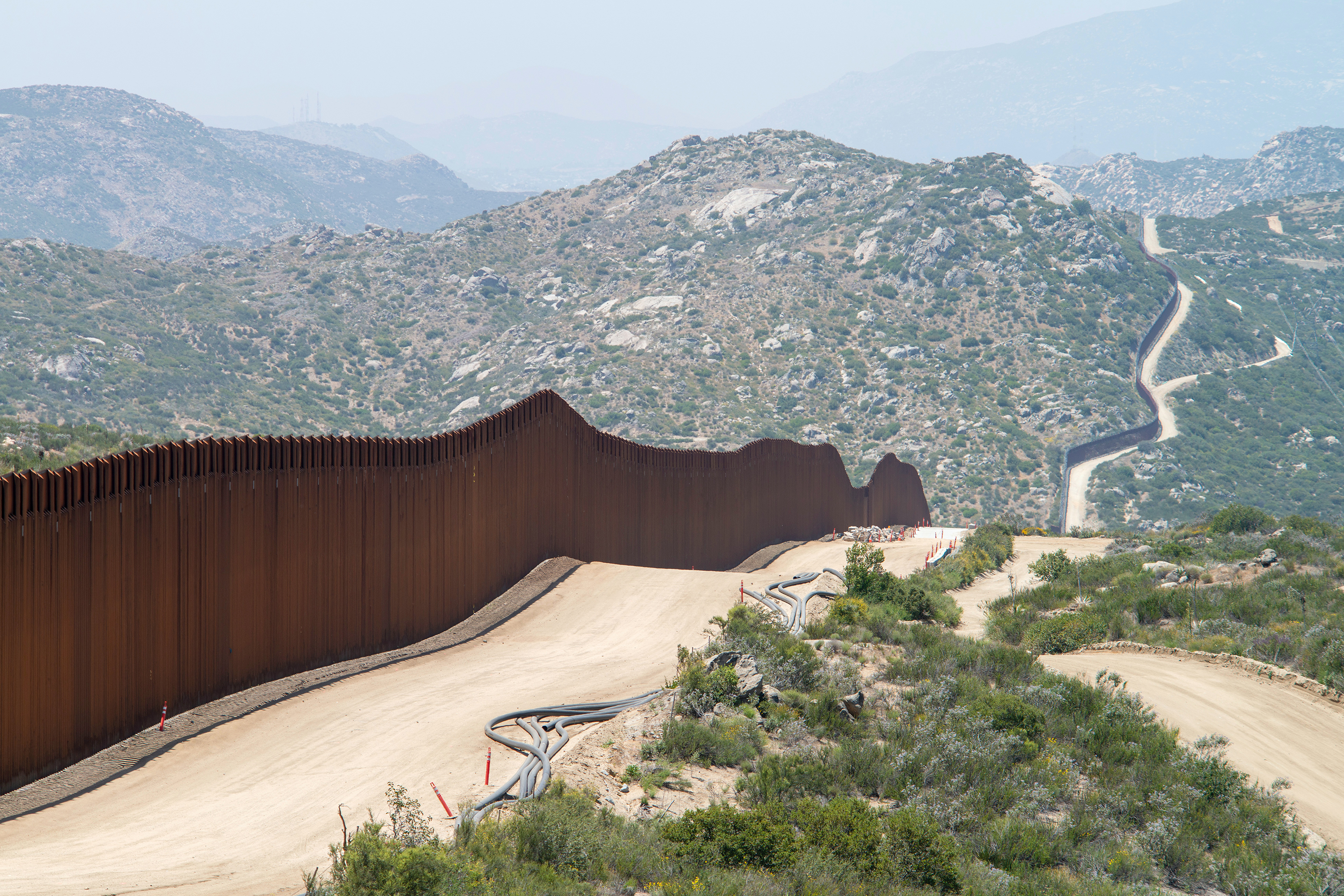 Where money, power and politics collide.
Materials for the unfinished, $15 billion U.S.-Mexico border wall, which Donald Trump vowed to build in 2015, hit the auction block this week in a clandestine fire sale, Power Corridor has learned.
The wall, which Trump promised would be paid for by Mexico, was instead paid for by U.S. taxpayers, with Trump diverting billions of dollars from the U.S. Defense Department's (DOD) budget to erect more than 450 miles of new barriers while in office. In his first days as president, Joe Biden halted much of the construction, leaving roughly 250 additional miles of the border wall unfinished, with gaping openings continuing to attract breaches.
The DOD's combat support branch, the Defense Logistics Agency (DLA), confirmed to Power Corridor late Thursday that the Pentagon is now moving ahead with the sale of the leftover materials, many of which have been sitting for years in piles on government and private land out West.
The items up for auction this week are "excess border wall materials that the U.S. Army Corps of Engineers turned over to the DLA for disposition and are now for sale," a DLA spokesperson said.
Leading the liquidation is Gov Planet, an online auction marketplace run by publicly traded Canadian company Ritchie Bros. Auctioneers. This week, Gov Planet began posting photos on its website and social media of large sections of the unbuilt wall, understood to be worth hundreds of millions of dollars.
But the auctioneer has been careful not to describe the items as parts of Trump's discarded wall, instead, generically listing them online as "steel tubing and sticks for industrial construction."
A source close to the fire sale told Power Corridor that this is by design. Under specific terms of the liquidation, Gov Planet was instructed by the Pentagon to aggressively market and auction off approximately 12,000 border wall items, but not to mention Trump, Mexico, or the controversial border wall. "We are legally not allowed to mention these are the border wall materials, or we could lose our jobs," the source said, on condition of anonymity. "But that's what they are – 110 percent."
Why would the government want to keep the border wall liquidation under wraps? "With all the news about Trump right now, I don't think they want to cause any more chaos," the source says. "But this is a huge deal and with everything that's going on with Trump, it's amazing to me that here's the wall, being sold behind Americans' backs."
Calls by Power Corridor to Gov Planet requesting more details about the materials on its website confirmed that information about its origins is not being given out. "We just receive the equipment, we don't know where it comes from," one representative said.
Another reason the Pentagon might want to keep the sale of millions – if not billions – of dollars of unused border wall materials under wraps is that the agency has increasingly caught flak for wasteful spending and accounting problems. As reported in Power Corridor in May, the Pentagon, to date, has never passed an audit.
In the latest accounting of all DOD reporting entities, the Pentagon could account for only 39 percent of its $3.5 trillion in assets. Former Defense Secretary Robert Gates, who worked in the Obama administration, observed, "If the Department of Defense can't figure out a way to defend the United States on half a trillion dollars a year, then our problems are much bigger than anything that can be cured by buying a few more ships and planes."
Criticism over the cost of the border wall under Trump has turned into fury under Biden, as Republican senators blasted the Pentagon earlier this year for spending more than $300 million in taxpayer dollars on unused border wall panels since Biden ended construction of the wall in 2021.
According to a letter signed by more than a dozen Republican lawmakers sent in March, the DOD was spending almost $130,000 a day to store, maintain and secure unused border wall materials at 20 project sites across southern Arizona and New Mexico. "The Department of Defense should not be incurring these daily charges, but should be using these funds to bolster national security," the senators wrote.
Reached by Power Corridor, the DOD directed inquiries to the DLA. The White House did not respond to an emailed request for comment.
It is unclear how much the auction of the border wall materials will recoup for the Pentagon, but the source close to the fire sale said parts of the wall are going to be auctioned each week – with more wall components arriving daily – and "will continue to be sold until further notice."
A soft launch of the fire sale began Aug. 2, with a bigger push taking place this past Wednesday. Most of the border wall materials featured on Gov Planet's website appear to have been stacked up for years in Red Rock, Ariz. "Not sure how long it's been there, but it's all weathered-looking," the source says.
Individual items so far are selling for anywhere from $2,000 to $40,000.
Many on social media have already caught on to the fact the wall is up for sale, with online posts placed by Gov Planet to market the border wall materials drawing no shortage of pithy comments.
"I don't understand how this is going underneath the radar with all the Trump news out there," the source said. "The press hasn't noticed, but the radical Trump enthusiasts are posting about this in some of the online forums. There've been a lot of people who've come along and said they want to buy a piece of the wall. I mean, people see it and they know what it is, but we can't officially confirm it."
The auction ultimately means the dream of finishing the border wall, for now, is over – although many Americans still don't yet know it.
"I see stories all the time talking about the border wall," the source said. "People are still saying, 'Build it, build it!' But it's being sold, it's gone, it's done."