Sometimes.........you do not need words........ a picture is sometimes enough to sum it all up ....and this one below does it for me .........
In the End, Climate Change Is the Only Story That Matters
To pretend otherwise is just to build the walls of your sandcastle higher.

By Charles P. Pierce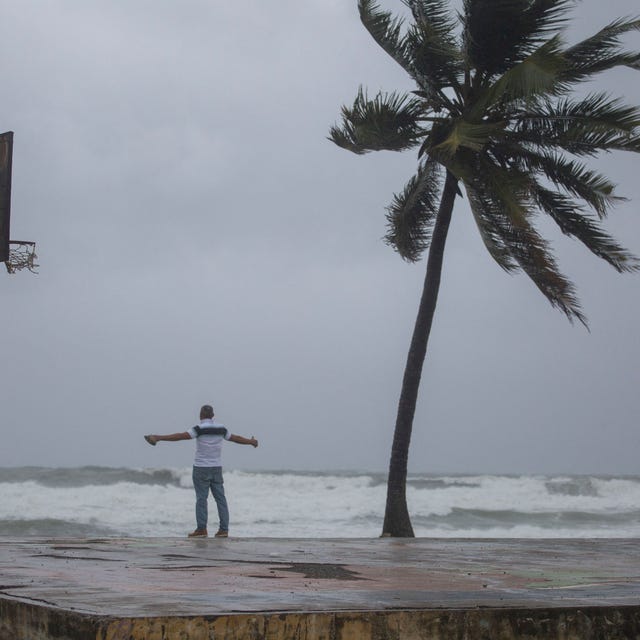 ERIKA SANTELICES
//
Getty Images
(Gratuitous Musical Accompaniment To This Post)
While we watch the disembowelment of various lawyers in the employ of a former president* and wrap ourselves in the momentum of the upcoming midterm elections, the climate crisis—its time and tides—waits for no one. Every other story in our politics is a sideshow now. Every other issue, no matter how large it looms in the immediate present, is secondary to the accumulating evidence that the planet itself (or at least large parts of it) may be edging toward uninhabitability.
All summer, the main climate story was the worldwide drought. Reservoirs dried up, rivers shrank, huge rock walls showed "bathtub rings" as markers of where all the water used to be. Lake Mead gave up its forgotten mob victims, and rivers in the Balkans gave up Nazi ships scuttled almost 80 years ago, one step ahead of the Red Army. All of which was fairly interesting, but when you're thirsty, archaeology is no substitute for water.
Now, though, it's fall again, running toward winter, and for people who live near the seacoast and on islands, that means it's cyclonic storm season again; and cyclonic storm systems are now bigger and stronger and more relentless than they've ever been, strengthened every year by the accumulating dynamics of the climate crisis.
By the end of this week, Hurricane Fiona—which already had torn up Puerto Rico, the Dominican Republic, Bermuda, and the Turks and Caicos—was building up strength again as it moved north and took dead aim at Nova Scotia and the rest of Atlantic Canada.

Ahead of Fiona, the Canadian Hurricane Centre has issued a hurricane watch for portions of Nova Scotia, Prince Edward Island, Iles-de-la-Madeleine and Newfoundland. "Hurricane Fiona has the potential to be a landmark weather event in Eastern Canada this weekend," the Centre tweeted.
Usually, Atlantic Canada gets battered by winter storms roaring in from the North Atlantic. Its encounters with tropical hurricanes usually consist of withstanding their remnants. At worst, a hurricane comes ashore in this region as a Category 2 storm, as was the case with Hurricane Juan. Even the legendary Nova Scotia Cyclone of 1873, which came up on roughly the same track as Fiona seems to be following, and which sank 1,200 boats and killed 500 people, probably came ashore as a Category 1 storm. If Fiona strikes as a Category 3 or 4, it will be a historic storm for that part of the world.
Advertisement - Continue Reading Below
And Fiona has cousins lining up behind it.
Fiona is one of five different systems that meteorologists are carefully tracking in the Atlantic, which has roared to life amid the peak of hurricane season. There's also Tropical Storm Gaston, which is centered 375 miles west-northwest of the Azores over the northeast Atlantic. The Azores are under tropical storm warnings, and could see conditions deteriorate Friday and remain inclement through late Saturday. In addition, a tropical wave exiting the coast of Senegal in Africa could strengthen into a named storm in the next few days. There is also a disturbance midway between Africa and South America that could gradually develop. Of potentially high concern is another fledgling storm that could deliver a serious blow to the Gulf or Caribbean.
It will be maddening to see all the news stories about the damage done by these storms, and about the people left homeless and without electricity or clean drinking water, which will not put these facts in the context of the climate crisis. This is the only way any of the other stories make sense. The storms are bigger, stronger, and they maintain their strength for longer—and all of that is a consequence of the changes that we have wrought to the climate. At this point, to cover these massive weather events without mentioning the underlying dynamic that drives them is like covering a war without mentioning explosives.

But at the other end of the world, there was an even more catastrophic storm in which the climate crisis was directly involved. Climate has changed the weather in this place, and it has changed the history of it, too. It was a place in which human beings and polar bears depended for their livelihoods upon sea ice that isn't there any more, at least not when it's supposed to be.